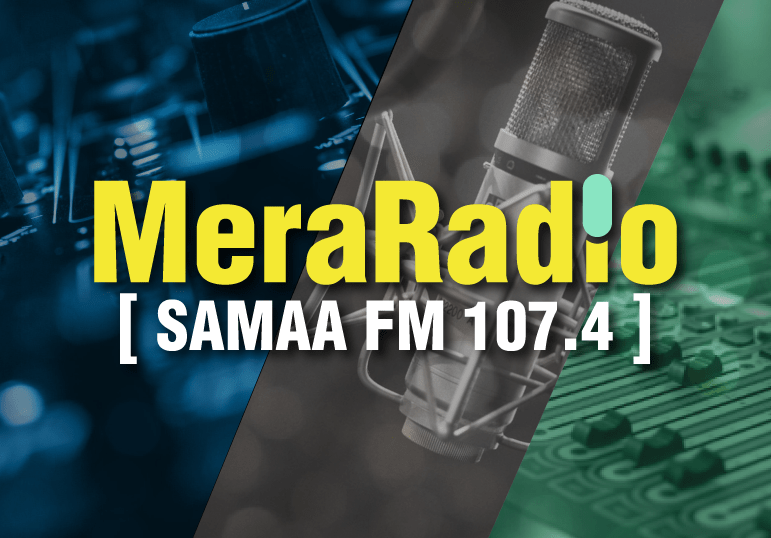 SAMAA FM 107.4 RJs Giving Life to Radio
posted by:

Abdul Latif Dadabhouy

No Comments
Radio always steals the show. And who doesn't like that? Whether driving, at work or simply having friends over. Radio Shows give you the perfect music, infotainment, and more because it's live, fun, and interactive with new and interesting topics each day for the listeners. SAMAA FM 107.4 offers its listeners a unique mix of programs hosted by Pakistan's most cherished RJs.
IT'S MY SHOW WITH SAHIR LODHI
Taking you to a lighter mode with compelling stories, everyday life happenings with music that touches your soul. Tune into IT'S MY SHOW with Rj Sahir Lodhi, every Monday to Friday 8pm to 10pm.
SAMAA RISE WITH ADEEL AZHAR
Twist start your lazy mornings with current happenings, soft pop and retro music, latest news and views with a sprinkle of gossip to positively get charged for the rest of the day. RJ Adeel Azhar hosts SAMAA RISE, Monday to Friday from 7:00am to 9:00am.
SAMAA RISE WITH SULMEEN ANSARI
To keep your soul uplifted and energy on top, Sulmeen Ansari then takes you to a ride through the unbeatable 60's and 90's musical genre. With soul-finding discussions and more, listen to SAMAA RISE with RJ Sulmeen Ansari, Monday to Saturday, 9:00am to 11:00am.
LAGAO WITH SAHAR AMAN
It's Lagao time Khainch Ke Ya Ahista Se. Get ready to hop on an adventurous ride with RJ Sahar Aman. With 3 hours of non-stop interaction around topical news and upbeat musical treat; listen to LAGAO, Monday to Friday, 5:00pm to 8:00pm.
SAMAA CLUB WITH IMRAN HASSAN
Bringing the local club to your home, Imran Hassan aka RJ Mani finds solutions to your problems with a dash of music. This show will boost your energy so drop the beat and join the club, SAMAA CLUB, Monday to Friday 10:00pm to 12:00am.
SLOW JAMZ WITH SANA HUMAYUN
Having a yogi soul trapped within, RJ Sana Humayun's show sets your mood right after a tiring day as she takes you to a slow and steady ride, with mesmerising and refreshing tunes sing along with SLOW JAMZ, Monday to Friday 12:00am to 2:00am.
CHILL KARO WITH SARA BALOCH
Enter your weekend with latest fashion updates, topical news, chatpati gossip, in short a Desi Tarka to your music and soul. Jump up with RJ Sara Baloch and listen to CHILL KARO, Saturday and Sunday, 5pm to 8pm.
MOVE ON WITH AMBREEN HALA
With a blend of rap, bhangra, sufi and pop, RJ Ambreen Hala will make your weekend afternoons bouncier, with happening stories, events, sports, technology, Lollywood news, and all-things-desi. Listen to MOVE ON, every Saturday 1:00pm to 3:00pm.
3G GULLU, GULZAR AND GULZARI WITH AZHAR ALI BAIG
Get some laughter with a political touch where three characters Gullu, Gulzar and Gulzari will come to life and leave you with giggles, with a comical approach through life and music tune into 3G GULLU, GULZAR AND GULZARI, every Sunday 11am to 1:00pm.
MERE SHEHAR KA SAMAA WITH AISHA MALIK (Lahore Studios)
Looking for local news, exciting gossips and events, Rj Aisha Malik gives you all in a fun-filled show no matter where you are, or what you are up to. Tune into MERE SHEHAR KA SAMAA, every Monday to Saturday, 11:00am to 12:00pm.
MERE SHEHAR KA SAMAA WITH ALINA MEMON (Karachi Studios)
Enjoy music, news and trendy gossips all packed in one show; Rj Alina Memon will take you to a fun journey with MERE SHEHAR KA SAMAA, every Monday to Saturday, 11am to 1pm.
SUNDAY MORNING SHOW WITH DR. AJAZ QURESHI
Start your Sunday morning with breakfast, entertainment, information, health tips, counseling, and more, listen to the SUNDAY MORNING SHOW with RJ Dr. Ajaz Qureshi, every Sunday, 7 am to 11 am.
SHOWBIZ SHOWBIZ SUPERSTARS WITH SHAHPARA
Get all your spicy showbiz gossips, latest happenings, movie release updates and non-stop music with RJ Shahpara in SHOWBIZ SHOWBIZ SUPERSTARS, every Monday to Thursday, 1pm to 3pm, on SAMAA FM 107.4