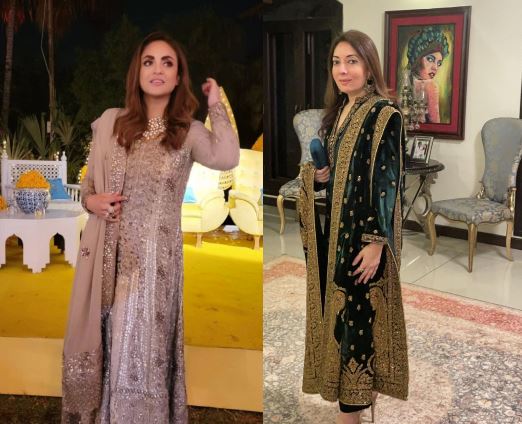 Sharmila Faruqi to take legal action against Nadia Khan in court
posted by:

Abdul Latif Dadabhouy

No Comments
Nadia Khan in trouble
Nadia Khan, the host of a popular television show, has once again gotten herself into trouble, this time for producing a video with Anisa Faruqi, the mother of PPP leader Sharmila Faruqi, in which she "complimented" her makeup and sense of style. Though this would appear to be a completely pleasant thing to do in most cases, this film didn't appear to be prepared with the purpose of being entirely complimentary. Sharmila wasn't convinced either.
Also Read: Sushmita Sen fangirls Danyal Zafar for his song Udh Chaliye
She termed it a farce and claimed Khan would face legal action as a result of it.
Sharmila Faruqi takes action against Nadia Khan
The video has gone viral on social media, with an Instagram page named Centre Stage sharing it. "She's a shameless woman, I'm reporting her to cybercrime officially," the lawmaker wrote in response to the video.
Khan appears to have met Anisa at a wedding. "Who does your makeup, it's so pretty?" she inquires of the politician's mother, who replies that she does her own. Anisa acknowledged her daughter when the host-turned-actor asked where she learned to do cosmetics.
Khan remarked on her fashion taste, jewelry, and cosmetics, and inquired as to when she began carrying herself in this manner. Anisa handled Khan's inquiries with grace and dignity, but her daughter was not so willing to let him off the hook.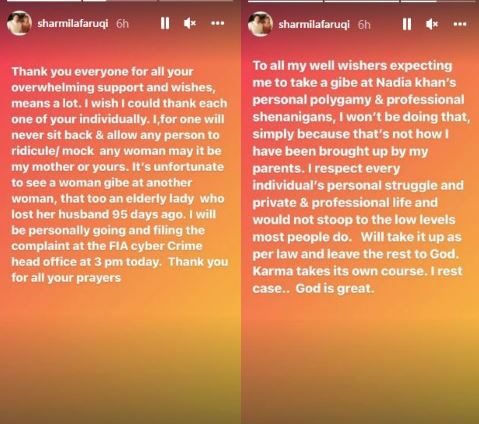 "I, for one, will never allow someone to humiliate or belittle any lady, whether it is my mother or yours. It's sad to see a woman sneer at another woman, especially one who is old and has been widowed for 95 days. At 3 p.m. today, I will personally go to the FIA cyber Crime head office and file a complaint "Sharmila was the one who wrote.
"To all my well-wishers expecting me to take a dig at Nadia Khan's personal polygamy and professional shenanigans, I won't be doing that, simply because that's not how my parents raised me," she wrote, refusing to go there.
Sharmila also stated that she respects each person's "personal struggle, private and professional life" and that she would not "stoop to the low levels that most people do." She stated that this will be pursued in accordance with the law and that she would "leave the rest to God."
Read More: The rise in divorces is due to 'ungrateful, independent' women, says Aamir Liaquat
Another side of the coin!
On the surface, Khan's video appears to be nothing to be upset about: one woman appears to congratulate another. The video. However, was clearly not done with the finest of intentions. Anisa has the freedom to wear however she wants, and no one should make fun of her for it. If her makeup style isn't to your liking, don't try it on yourself. Making a film that blatantly mocks an old woman is heinous and obscene.
Khan must be held responsible for her actions. It's past time for us to realize that we don't need to stick our noses in everyone's business and make direct or oblique comments about other people's appearances.
We're delighted Sharmila is holding Khan accountable, and we hope that this serves as a lesson for others to cease making fun of and remarking on others.
Have something to add to the story? Comment down below!