Sharmila Faruqui vs Nadia Khan: The spat continues
posted by:

Abdul Latif Dadabhouy

No Comments
Sharmila Faruqui serves defamation notice to Nadia Khan
On Saturday, legislator Sharmila Faruqui submitted an Rs50 million defamation notice against prominent television personality Nadia Khan over her viral video involving the prior's mother.
Nadia posted a "defamatory video" on her Youtube channel. In the video, she "violated her mother Anisa Farooqi's privacy. Moreover, she insulted her over her makeup look," according to the notice, which she shared on her Instagram Stories.
Read More: Sharmila Faruqi to take legal action against Nadia Khan in court
Nadia has 15 days to recant her words, apologize, and pay Rs50 million in compensation, according to the notice. The notice reads, "On behalf of Mrs. Sharmila Farooqi, Member of the Sindh Provincial Assembly, who has instructed me to serve upon you the following legal notice under Section 8 of the Defamation Ordinance, 2002, on account of a defamatory video published by you on your YouTube channel, namely 'Outstyle,' on January 20, 2022."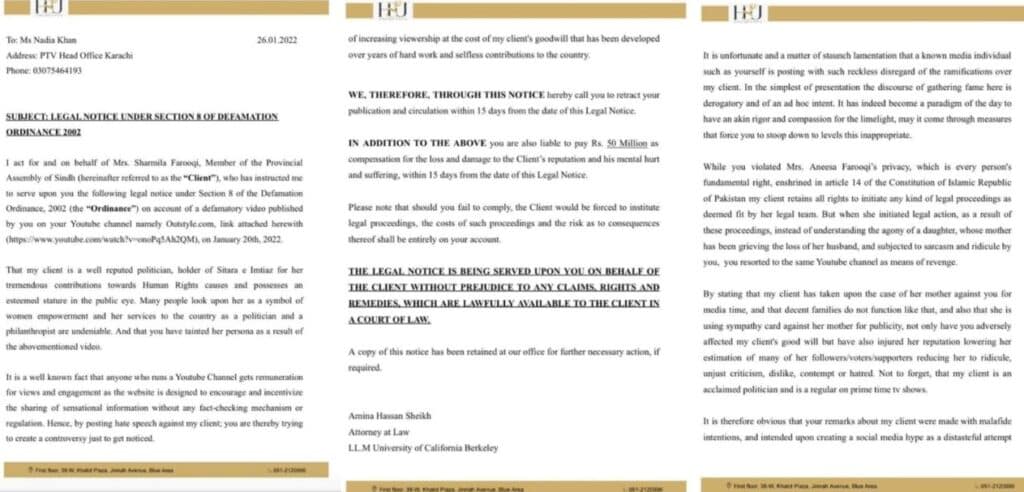 "My client is a well-reputed politician and you have tainted her persona as a result of the abovementioned video. It is a well-known fact that anyone who runs a YouTube channel gets remuneration for views and engagement. Hence, by posting hate speech against my client, you are trying to create a controversy just to get noticed," it goes onto the claim. Adding that "it is unfortunate" that a known media professional like Nadia, "is posting with such reckless disregard."
Nadia Khan replies with a legal notice to Sharmila Faruqui
In response to Sharmila Faruqui's notice Nadia Khan also slams a legal notice. Her Instagram post reads, "My lawyers are sending a legal notice to Sharmila Faruqui suing her for 50 crores for defamation." Furthermore, it reads, "And using insulting remarks for a woman. I wish if she had only done the good deed for any needy woman or a helpless child. She would still have got the media and our attention."
What happened between Nadia Khan and Sharmila Faruqui?
After engaging in a dialogue with Anisa Farooqi for a video in which she 'compliments' her makeup and sense of style, Nadia found herself in hot water. Sharmila and many viewers were offended by the remarks, believing Nadia was being sarcastic. Sharmila called it a farce and that she would take legal action against the host. The politician also filed a complaint with the FIA against Nadia later that day. "She is a shameless woman, I'm officially reporting her to cybercrime," the lawmaker said in a comment on an Instagram video.
Anisa had been approached by Nadia at a wedding and she had asked her, "Do you have a cosmetic artist? It's just stunning!" Anisa explained that she does it herself. And when the host-cum-actor asked where she learned it, Anisa credited her daughter Sharmila. Nadia mockingly appreciated Anisa on her fashion sense, jewelry, and makeup, while Anisa accepted all compliments and queries without questioning Nadia's motives. Despite the clarification Nadia provided in response, it appears her daughter is certain Nadia did not mean good.
Have something more to add to the story? Comment down below!