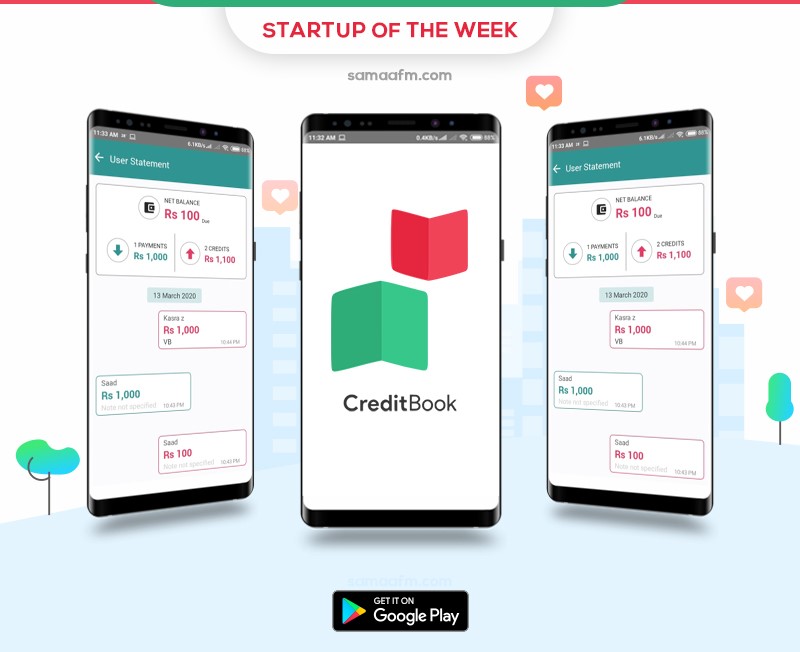 Tech Tuesday Startup of the week: CreditBook
posted by:

Abdul Latif Dadabhouy

No Comments
Being relevant with cash is about something other than getting by. Try not to stress that you're not a number related marvel; incredible mathematical abilities aren't actually important – you simply need to know essential addition and subtraction. Life is a lot simpler when you have great monetary abilities. What you go through your cash means for your money management and the measure of obligation you wind up carrying. In case you're battling with cash the board issues a particularly living check to check despite bringing in a sizable amount of cash, at that point here are a few hints to improve your monetary habits. Who knew you could manage your finances that easily? A husband and wife duo of Hasib Malik and Iman Jamall along with Hisham Adamjee made Digital udhaar easy with their startup CreditBook.
CreditBook
CreditBook is accelerating the digitization of micro, small and medium enterprises across Pakistan. Through beginning with a simple digital ledger to track credit and expenses, they are empowering millions of underserved businesses across Pakistan. CreditBook manages your finances, track your payments. Update receiveables and helps to grow your business.
Features of CreditBook
Faster Repayments
With their Payment Reminder feature, you can automate reminders to the customers via Whatsapp or SMS every time a transaction is recorded. And this option is FREE. CreditBook believes in more transparency = faster repayments = more growth for the business.
Secured Data
Have a right to enjoy stress-free business with CreditBook. Your business can be accessed with a mere click of a button! You will find all the details related to credit and debt, for any number of customers on just your phone. No matter who manages your business, or how many times you install/reinstall the application. Your data is always end-to-end secured and available.
Controlling your expense and time
You can stay informed and control your expenses with your suppliers. With the CreditBook app, you can Monitor your overall financial health. Because good relationships create great businesses, and this app will help you flourish your business. You can also save hours by updating daily business accounts within minutes. No more looking up scraps of papers, illegible entries, or arguing with customers.
Pakistan's CreditBook raises $1.5 million seed
With a large number of these businesses even today rely on pen and paper for bookkeeping. CreditBook digitizes and managed to raise $1.5million seed money to grow their business. Despite making any money from their own venture. The team still hopeful to change the finance managing dynamic in Pakistan. The investment generated from a mix of local and international investors. CreditBook could be considering monetization options but its focus, for now, remains on solving for the bookkeeping needs of its userbase. The ultimate goal is to equip micro-enterprises with information to help them increase their income.
If you want your startup to get featured, contact us.