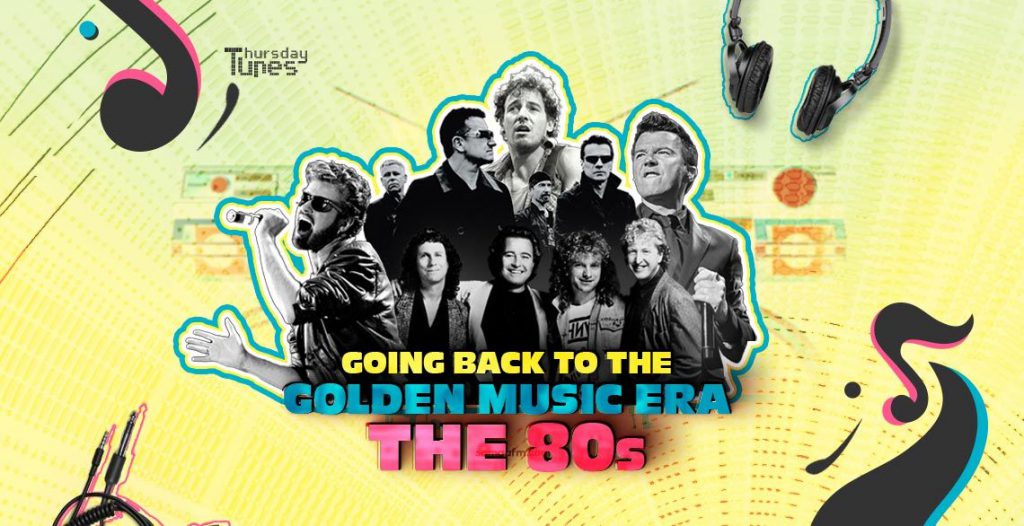 ThursdayTunes: going back to the golden music era of the 80s
posted by:

Abdul Latif Dadabhouy

No Comments
Is it possible that a year could possibly bully other years for its music? [Not that I am promoting or glorifying bullying of any sort] but if that's the case, give that cookie to the 80s era. For those of you who haven't been paying attention, the 80's era was way much cooler than we all think. Well, my dad and I always have a conflict when it comes to music, but over the years I am convinced that he is right, it's the 80s songs that helped me feel my raw emotions evenly! It's not just about costume-party clichés or dancing in those years [a part is] BUT, it is more about quality, the lyrics, the melody, synthesizers, and the emotions!
MTV's Popular Music Genres of the 1980's
MTV used to be the ultimate light for all the singers of 80s, Madonna from the pop, Jungle Brothers from the Hip Hop, Duran Duran or The Police from the New Wave and Iron Maiden, Aerosmith and Ozzy Osbourne from the Hair Metal. Every single picked the limelight and made a strong place in our hearts. It is pretty understandable that 80' era provided a golden era in rock and pop, we surely can't get over our dad old parachute pants, mom's perms and topiary style new-romantic haircuts.
And about music we have gathered a few 80's songs below you should add in your playlist since Spotify is in Pakistan now, yay! This could be way easier. [I checked the artists they are there on Spotify, don't worry]
With Or Without You – U2 (1987)
U2 is an Irish rock band from Dublin, from 1976. Bono [lead vocalist] describes a tortured relationship that he cannot escape. The lyrics seem self explanatory but it deals with depth. The lyrics imply that can't live with them, can't live without them. Love gets frustrating at time but it's hard to give up.
With or without you lyrics – u2
? See the stone set in your eyes
See the thorn twist in your side
I'll wait for you
Sleight of hand and twist of fate
On a bed of nails, she makes me wait
And I wait without you
With or without you
With or without you ?
I Want To Know Love Is – Foreigner (1984)
This song is a wonderful creation by the Foreigner band, the guitarist Mick Jones wrote it and said it is more on a personal level. A confusion where you want to find love, but somehow it hurts you. And it becomes a universal feeling. The music of this song is brilliantly put; the song gracefully raises the bar and fades away in the end.
I want to know what love is – Foreigner lyrics
? In my life, there's been heartache and pain
I don't know if I can face it again
Can't stop now, I've traveled so far
To change this lonely life
I wanna know what love is
I want you to show me
I wanna feel what love is
I know you can show me (Ooh) ?
Never Gonna Give You Up – Rick Astley (1987)
Setting all the retro moves right there, this song is an ultimate mood. Sung by Rick Astley. The funky tunes and the upbeat melody made this song a hit the day it got released. The song also made way in many series including Family Guy and South Park.
Never Gonna Give You Up – Rick Astley lyrics
? I just want to tell you how I'm feeling
Gotta make you understand
Never gonna give you up, never gonna let you down
Never gonna run around and desert you
Never gonna make you cry, never gonna say goodbye
Never gonna tell a lie and hurt you?
Wake Me Up Before You Go Go – Wham! (1984)
Nothing makes it better than Wham! Wake me up before you go-go is another great song of 84'. Go-Go being a dance club, it tells you about a story of a guy who is head over heels in love with a girl and bummed when he finds out that she went dancing without him while he sleeps. This song is surely a dance number. And makes you feel alive with the beats!
Wake me up before you go go – Wham! lyrics
? But something's bugging me
Something ain't right
My best friend told me
What you did last night
You left me sleeping in my bed
I was dreaming
But I should've been with you instead
Wake me up before you go-go
Don't leave me hanging on like a yo-yo?
Dancing In the Dark – Bruce Springsteen (1984)
"Dancing in the Dark" is a song written and performed by American rock singer Bruce Springsteen. Adding uptempo synthesizer riffs to his sound for the first time, this song will definitely get you going. The song spent four weeks at number two on the Billboard Hot 100 and it sold over one million singles in the U.S., making it the best-selling album of his career.
Dancing in the dark – Bruce Springsteen lyrics
?You can't start a fire
You can't start a fire without a spark
This gun's for hire
Even if we're just dancin' in the dark?
So are you planning to loop and listen to any of this, yet? Go transport yourself into the 80s and enjoy the journey!