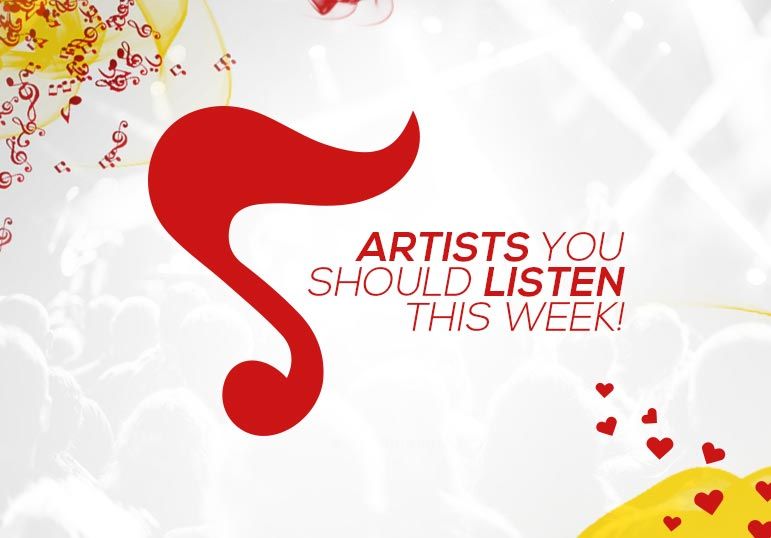 ThursdayTunes: Valentine's Day Special
posted by:

Abdul Latif Dadabhouy

No Comments
Since Valentine's Day is around the corner, lovers are on a full swing [not like us – single and sad] sending wishes, roses, and teddy bear sales have gone up the roof, since the Covid pandemic is also here, so there might be some long-distant meet-ups that will happen over Zoom or video calls, we lined up 5 love songs that will aid your dates nicely!
ILY (I Love You Baby) – Surf Mesa Ft. Emilee
Almost half of the world might have listened to this song but this won't get old, every time you listen to it, you will definitely miss your partner, there might have been countless and countless dedications related to this song, the remix has set the mood on both Tik Tok and real life. This song is a rendition of Frank Sinatra's I Love You [from the '40s]. Surf Mesa's version is in Tropical House Trend, very upbeat and gives a lively hip hop beat to it, while Emilee maintains the charm with the vocals and this version will definitely be on your list for your Valentine's Day mixtape!
I love you by Surf Mesa Lyrics
♪I love you, baby
And if it's quite all right
I need you, baby
To warm these lonely nights
I love you, baby
Trust in me when I say♪
Mine – Bazzi
Mine by Bazzi gives out a vibe that is Cosmic. It's a jolly reminder of the wholesome tune that rocketed Bazzi to relevance in the first place and it surely is a pretty decent song. Mine's romantic lyrics and vocals are extremely catchy, making it the kind of song people want to sing in their car in the summer. Bazzi's vocals often as stated as lovey-and-relationship-y!
Mine by Bazzi Lyrics
♪You so freaking' precious
when you smile (huh, yeah)
Hit it from the back
and drive you wild (yeah, yeah, yeah)
Girl, I lose myself up in those
eye-eye-eye-eyes
I just had to let you know
you're mine (mine)♪
Perfect – Ed Sheeran
If you are not going to include Perfect by Ed Sheeran, you are going on the wrong Valentine's Day track [yeah, both tracks]. The song is 'Perfect' as its name. Having an dusky, romantic voice of Sheeran, the song is deeply endearing and soulful that hearkens back to Presley's years. His voice is clear, honest with a pinch of sincerity, exhibiting authentic, genuine emotions, carried by his personality!
Perfect by Ed Sheeran Lyrics
♪Barefoot on the grass,
listening to our favourite song
When you said you looked a mess,
I whispered underneath my breath
But you heard it, darling,
you look perfect tonight♪
I Like Me Better – Lauv
If you are not including Lauv in your mixtape, what are you even doing? Because we say beauty is right here with this song! With a unique fusion of electronic and pop, I Like Me Better is one of Lauv most amazing creations. Synth cords and upbeat drums are some of the qualities which make this song sweet. The music video is the most cutest thing [YES, THAT IS TRUE] throughout. The video paints a couple from NYC. And they beautiful harmony from being young and love and the same couple hinting as a fun old couple are what we needed to be all in [aww]. This song will instantly make you happy and definitely a good pick for your long drives!
I Like Me Better by Lauv Lyrics
♪ Midnight into morning coffee
Burning through the hours talking
Damn, I like me better when I'm with you
I like me better when I'm with you
I knew from the first time, I'd stay for a long time 'cause
I like me better when
I like me better when I'm with you♪
Come Thru – Jeremy Zucker
With cute aesthetics, colorful feel, and solid lyrics, Come Thru will strike all the nerves of your heart this Valentine's, Comethru" is a relatively simple song, but pretty well-rounded. The melody is not too jumpy or not too mellow – just the perfect amount, with soft guitar accompaniment, a perfect backdrop for Zucker's expressive pipes. As he sings, he sounds distinct, nuanced, and authentic. This young dude is definitely one to listen to revive love.
Come Thru by Jeremy Zucker Lyrics
♪Now I'm shaking, drinking all this coffee
These last few weeks have been exhausting
I'm lost in my imagination
And there's one thing that I need from you
Can you come through, through?
Through, yeah
And there's one thing that I need from you
Can you come through?♪
So what are you waiting? Surprise your partner with this mixtape!
---