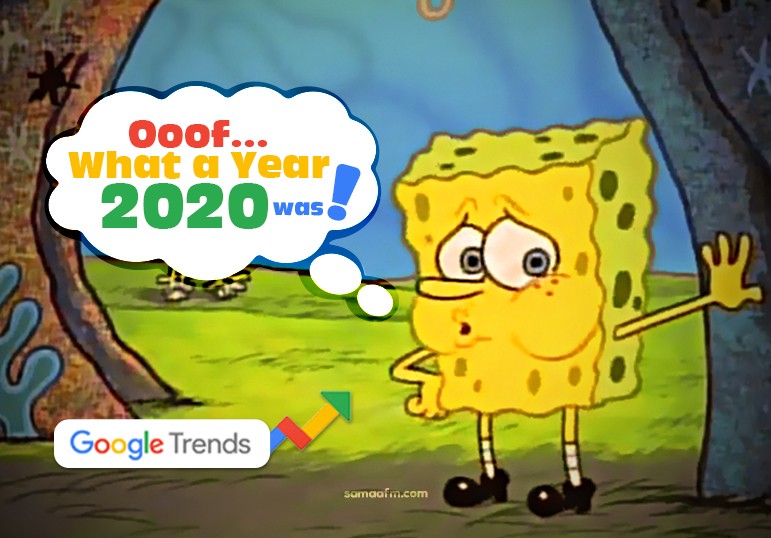 Trends of Google 2020; A year in a spin!
posted by:

Abdul Latif Dadabhouy

No Comments
The year 2020 has tested us from all around the world. We have seen so much due to the pandemic COVID-19, collectively and as individuals. Social Media seem to have played a bigger role in all of these tough times. Be it Google, Instagram, Snapchat, Facebook. Every app played significant roles shaping up society for betterment. Let's take you on a journey through 2020 with Google Trends around the world, as it played the most effective role this whole year!
Coronavirus 2020
This year most searched Google trend 2020 is undoubtedly the "Coronavirus Disease," which took the whole world by a major storm. The first human cases of COVID-19, subsequently named SARS-CoV-2 were first reported in Wuhan City, China, in December 2019. And the cases rose up in just four months taking lives of almost 1.58M people. The daily changes occur according to the recoveries and deaths. USA, unfortunately, tops the list of most recorded Covid-19 cases with a rate of 15.7 million affected people and 293k deaths in the span of a year. India takes the second place with 9.8M registered cases with 142k deaths within a year. Pakistan currently has 432K active cases with around 8,653 deaths and 397K people recovered from the disease.
DIY Facemasks and Sanitizers for COVID-19
With the rising cases and shortage of most of the Covid-19 essentials in the global market in the very first few months of this year 2020, people started off with making DIY experiments for their basic needs to get rid of the disease. DIYs of Sanitizers and Facemasks became the most popular search in Google.
Among Us Game During Pandemic
"Cyan sus! No, red sus! I am the imposter!" During these hard times with Quarantine and Lockdowns, 'Among Us' online game made lives easier. Among Us is an online multiplayer social deduction game developed and published by American game studio Innersloth and released on June 15, 2018. According to Google, the game started being downloaded on a huge level around August and it still tops the list of the most downloaded game of 2020.
Tom Hanks – the first celebrity to contract COVID-19
Unfortunately Tom Hanks was the most searched celebrity during Covid-19 rise as he and his wife Rita Wilson were the first two celebrities to have contracted the virus with mild symptoms. The actor broke the news on social media and the whole world started pouring wishes and love for them.
Kobe Bryant's Death
A shocker that hit the whole world during the rise of Covid-19 was the death of Kobe Bean Bryant on January 26th 2020. Kobe was a professional American basketball player and a shooting guard. His death by a helicopter crash caused a wave of sadness among social media. The reported cause of the crash seemed to be the poor weather conditions faced by the pilot while he tried to climb in altitude but was actually descending; the player died along with his 13-year old daughter.   
Elections 2020 in USA
Elections 2020 in the United States of America became a buzz all around the world in November and became the most searched news in November Google Trends 2020. Between Republicans and Democrats, Joe Biden representing Democratic Party won the elections 2020 against Donald Trump. Joe Biden becomes the 46th President-elect of the US with 81,282,903 votes.
Aurat March And Marvi Sarmad in Pakistan 2020
With Feminism grounding its roots in Pakistan, Aurat March and Marvi Sarmad became the top searches of 2020. The wave started when Aurat March 2020 happened on 8th March (International Women's Day). And became the talk of the town! The controversy stirred up when Pakistani Drama Writer – of the 2020 most searched Pakistani drama "MERE PASS TUM HOU,"- Khalil-ur-Rehman opposed the whole movement and passed inappropriate comments on social media and national TV against Aurat March and Marvi Sarmad.
Dirilis: Ertugrul Ghazi – A wave in Pakistan
Ertugrul Ghazi has become a Google trend 2020 sensation, A Turkish series, after the request of the Prime Minister Imran khan got dubbed and broadcasted on PTV in April took audiences over the roof! The show instantly became "The Most Hyped Show of the Year." With around 10M subscribers on their official TRT YouTube channel. Be it Ertugrul or Halime Sultan (Esra Bilgic). It became the wave of energy among people of every age! Since it was dubbed in Urdu language, it was widely broadcasted among local audiences. The main cast from the show also arrived in Pakistan. Due to the massive fan following and love from the audience. Read More: ERTUGRUL GHAZI ARRIVES IN PAKISTAN
Even during these hard times, there is still a hope for a good next year, with new vaccines being introduced and proven effective by Pfizer and BioNTech for COVID-19. This year has surely taught her how to be ready for any uncertainty in life and how to stay connected even without leaving your home. A year summed up in Google trends 2020!
---
Also Read: SAHAR TABAR SENTENCED TO JAIL FOR 10 YEARS!