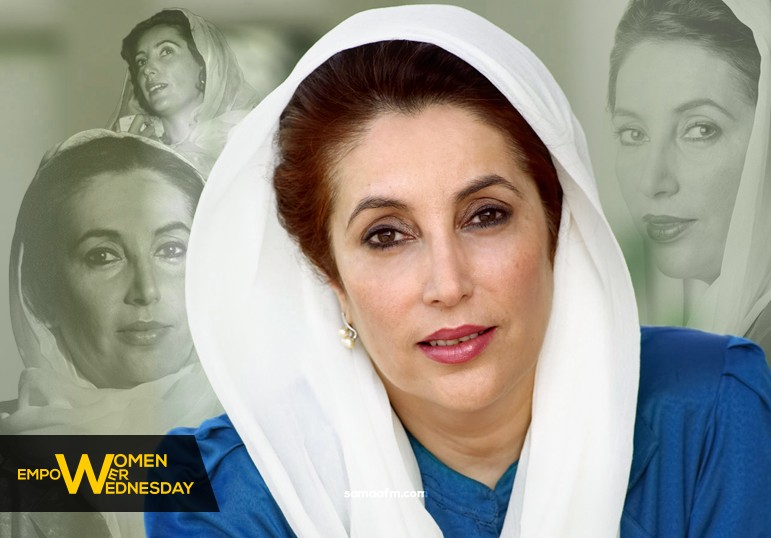 Women Empower Wednesday: Benazir Bhutto the epitome of resilience
posted by:

Abdul Latif Dadabhouy

No Comments
When it comes to female leadership and empowerment, modern-day icons like Malala Yousufzai, Hillary Clinton, and even Jennifer Lopez are quick to come to our minds. (Not to mention Emma Watson, Michelle Obama, Kamala Harris, and "Lean In" coach Sheryl Sandberg.) Fortunately, in this modern world, there are a lot stronger and powerful female leaders out there than common knowledge may suggest; from progressive politicians to dedicated activists.
Pakistan is still not as progressive as the West is, but we also have powerful women who have the narrative to change the world and are on the track to change the world and make a difference in society. One of the women we are featuring today is a political figure; a famous political figure that visioned for the betterment of Pakistan, that woman is, Benazir Bhutto!
Benazir Bhutto
Benazir Bhutto was a Pakistani politician who served as the first woman Prime Minister of Pakistan from 1988 to 1990 and again from 1993 to 1996. She was the female to head a democratic government in a Muslim majority nation. Benazir was ideologically a liberal and a secularist, she chaired or co-chaired the renowned political party "Pakistan People's Party" (PPP) from the early 1980s until her assassination in 2007.
Benazir Bhutto's Parentage
Benazir belonged to a Sindhi and Kurdish parentage. She was born in Karachi to a politically dominant, wealthy aristocratic family. She studied at Harvard University and the University of Oxford, where she was President of the Oxford Union. Her father, the PPP leader Zulfiqar Ali Bhutto was elected as Prime Minister on a socialist platform during 1973. She returned to Pakistan from Oxford in 1977, shortly before her father was overthrown in a military coup and executed.
Benazir's Resilience in Politics
Benazir and her mother Nusrat Bhutto took charge of the PPP and led the country's Movement for the Restoration of Democracy; she was repeatedly imprisoned by Muhammad Zia-ul-Haq's military government and then got exiled to Britain in 1984. She returned in 1986 and—influenced by Thatcherite economics—transformed the PPP's platform from a socialist to a liberal one, before leading it to victory in the 1988 election becoming the first woman Prime Minister of Pakistan at the age of 35.

Also in 1987, Benazir married Asif Ali Zardari son of Hakim Ali Zardari, a businessman and landowner. It was an arranged marriage, something stunning for Oxford and Harvard graduate Benazir but she had her reasons for that. According to her, she was introduced to Asif Ali Zardari only five days before agreeing to the proposal. She had her first child Bilawal Bhutto, after a year in 1988.
Benazir Bhutto during her Tenure
As the Prime Minister, her attempts at reform were stifled by conservative and Islamist forces, including President Ghulam Ishaq Khan and the powerful military. Benazir became the voice of the powerless and oppressed and also spent a significant time challenging dictators for the restoration of democracy in the country.
Her administration was accused of corruption and nepotism and dismissed by Ishaq Khan in 1990. Elections were rigged the year by intelligence service to ensure a victory for the conservative Islamic Democratic Alliance (IJI), at which Benazir Bhutto became Leader of the Opposition.
Only two years into her first term, Bhutto again got dismissed from office by President Ishaq Khan. She initiated an anti-corruption campaign, and in 1993 was re-elected as Prime Minister. While in office, she brought electricity to the countryside and built schools all over the country. She made hunger, housing, and healthcare her top priorities, and looked forward to continuing to modernize Pakistan as a secular nation.
During this time Benazir faced constant opposition from the Islamic fundamentalist movement. Mir Murtaza, the brother of Benazir who was alienated from Benazir after his father's death was returned from abroad to level the charges of corruption against Asif Ali Zardari, Benazir's husband.
Mir Murtaza tragically died the same year when his bodyguard became involved in a gunfight with police in Karachi. The Pakistani public was shocked by this turn of events, and PPP supporters were divided over the charges against Zardari. Benazir's resilience was unshaken during those tragic years, the painful demise of her father and then her brother.
In 1996, President Leghari of Pakistan dissolved the National Assembly resultant in the dismissal of Benazir Bhutto from the office alleging mismanagement. A Bhutto re-election bid failed in 1997, and the next elected government, headed by the more conservative and corrupted leader Nawaz Sharif, was overthrown by the military. Asif Ali Zardari was imprisoned, and once again, she was forced to leave her homeland.
Political Exile
For nine years, she and her children lived in a self-imposed exile in London, where she continued to advocate the restoration of democracy in Pakistan. Asif Ali Zardari was released from prison in 2004 and rejoined his family in London. In the autumn of 2007, in the face of death threats from radical Islamists, and the hostility of the government, Benazir Bhutto and her husband returned to their native country.
Assassination
She was greeted by enthusiastic crowds and supporters, unfortunately, within hours of her arrival; her motorcade was attacked by a suicide bomber. She survived the first assassination attempt on Karsaz, Karachi but due to these attacks, more than 100 bystanders died. On the brink of the National Elections of 2008, she was hoping to win the elections and planning to become a Prime Minister once again. But a few days after her arrival in Pakistan, the extremists struck again. After her successful campaign rally in Rawalpindi, a gunman fired at her car before detonating a bomb killing him and more than 20 bystanders. Bhutto was rushed to the hospital but soon succumbed to injuries suffered in the attack. In the wake of her death, riots erupted throughout the country. The loss of the country's most popular democratic leader plunged Pakistan into turmoil and sadness!
Despite her strong personality and her charisma as a leader, she was a caring mother of three children Bilawal, Bakhtawar, and Asifa. On one account Bilawal Bhutto, Benazir's eldest son shared that most controversially when she was pregnant with my sister, Bakhtawar, her prime ministership was challenged for that fact. There were calls for her dismissal, the setting up of a caretaker government because a pregnant woman had no right to be a Prime Minister. But Benazir during those times never stopped smiling and had her baby in secret and came back to the office the very next day. Quite a slap on the misogynists' faces!
 She enduring imprisonment, solitary confinement, exile, assassinations of family members and associates was what she had to live through as a young woman, but what she never left? A dream of making Pakistan a recognizable nation and a strong democratic entity on the world map! As a poet beautifully encapsulates her life and journey as, "Dartay hain bandooqon walay, aik nihatti larki se."