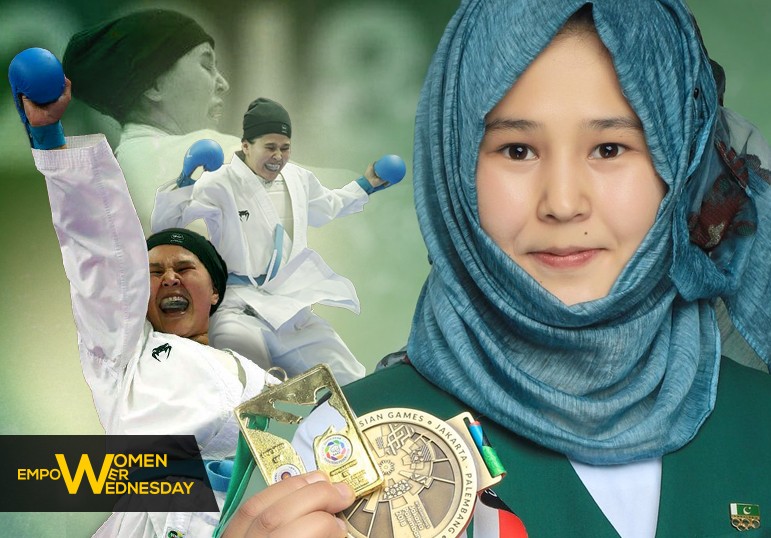 Women Empower Wednesday: Pride Of Pakistan Nargis Hameedullah
posted by:

Abdul Latif Dadabhouy

No Comments
"The world needs strong women. Women who will lift and build others, who will love and be loved, women who live bravely, both tender and fierce, women of indomitable will." – Amy Tenney
Women all around the world are making marks, setting benchmarks, and moving mountains with resilience, unmatchable. Be it politics, policy making, sports, research, engineering, public health, etcetera. Although being challenged from the society on every step –as little as possible – they are proving their mettle and making sure to shine as bright as ever! From the first woman, and the first Black and South Asian Vice President USA, Kamala Harris to the first woman to climb Mount Everest Junko Tabei. Women are glorifying, challenging news hurdles each day and motivating other women EVERYWHERE!
A 21 year old girl Karateka from Hazara, Quetta – a part of Pakistan which might not very well-known or recognized around the world – with passions to make a huge difference not just in Pakistan, but around the globe. From overcoming security threats, and ethnic persecution, let's meet the Asian Games Bronze Medal awarded Nargis Hameedullah!
Nargis Hameedullah – The Karateka
Nargis Hameedullah belongs to Hazara, Quetta. A part of Pakistan where women playing sports of any kind, let alone Karate may raise eyebrows in the society. One of Pakistan's most persecuted ethnic and religious minorities. But that has not stopped her from beating the odds.
In 2018, Asian Games, Nargis defeated Nepal's Karki Rita 3-1 in the match played for Bronze medals on 25 August 2018. Nargis, also won bronze medal in over sixty-eight kilograms category competition. She won a gold medal in the South Asian Championship in Colombo, Sri Lanka in 2017. She is also part of Pakistan Female Karate Association. She teaches karate to girls at a Quetta club and says "through karate, girls can defend themselves".
Getting into tough sports like "Karate," in an age of just 5 years old, was a follow-up to the footsteps of her own father. She began 'Martial Arts training' when she was just 5 years old. Her father was a well respected Karateka himself, that's what motivated him to make her daughter follow his footsteps. She got her initial training from "Mixed Martial Arts." The institute has taekwondo, karate and wushu all together. Inspired by the another renowned male Karateka Ghulam Ali Hazara, she became motivated on his achievements as a three-times Karate Champion in South Asian Games, she then to pick Karate for herself during her training.
Karate training in general has three parts or sections, Kihon, Kata and Kumite. And to add in Nargis's luck she gets to be trained under her Karate Idol Ghulam Ali Hazara. She got her Kata's training from Ghulam Ali, while the trainer Saadi Abbas prepared her for Kumite.
The trainings for these championships are not easy at all. The training sessions get real aggressive and during rigorous trainings and gym sessions. Injuries take an evident part. But Nargis never let this come in front of her training as a hurdle… She rather took it as a challenge and went through all! As she herself says "An aim makes you go through your entire hurdle!"
Feminism and Women Empowerment
Nargis Hameedullah, also strongly believes in women empowerment. According to her it is a great deal. She realizes that there are a lot of challenges for women in this society, and a place where she lives, and the community she belongs to, it becomes very hard for her to continue her training sometimes. And societal pressures do act as the biggest hurdle. She has a firm belief that every girl has the right to follow her own dream and she also believes that family support for a girl should always be the top most priority.
Also Read: FEMINISM IS ITSELF A REPRESENTATION – NATASHA BAIG
She addresses this on many events and occasions and she gives credit to her mother and also her father, who knows that giving her the chance, will be leading their community one step closer to betterment. She also believes that "Every woman is different and amazing in her own way, she just needs recognition!"
Women should never feel subservient because of her gender; they have the potential no one can match. Never losing the confidence is a key. There is nothing that can stop a woman from achieving her dream. Whether you study or you play. Just stay put and ever stop believing in yourself!
---
RECOMMENDED
Read more about Women Empower Wednesday and If you like this article you can also check these
– WomenEmpowerWednesday: Saima Mohsin
– WomenEmpowerWednesday: Bilquis Edhi