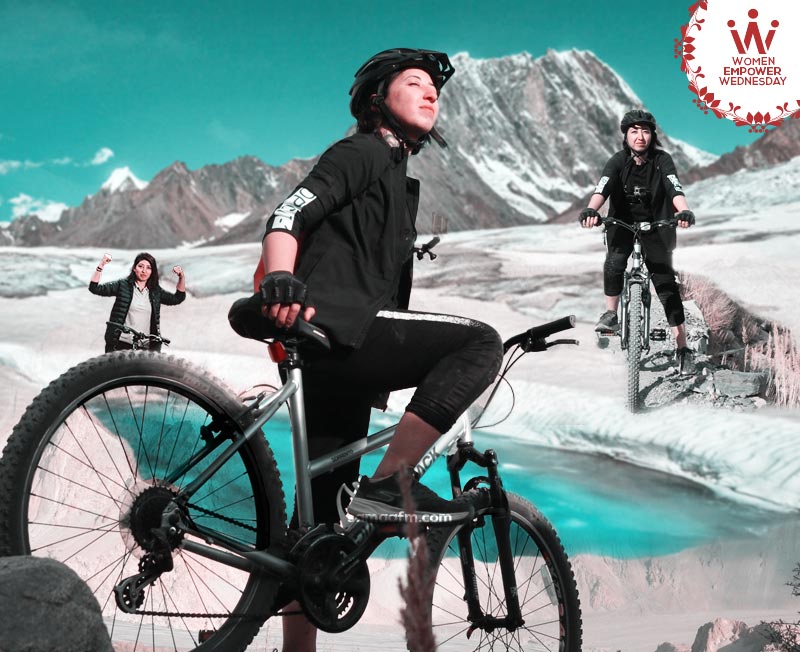 Women Empower Wednesday: Reaching heights on wheels Samar Khan
posted by:

Abdul Latif Dadabhouy

No Comments
This week in the Women Empower Wednesday segment, we are featuring athlete and cyclist Samar Khan who touched Biafo Glacier on wheels.
Some people are born achievers. They do things that they believe can achieve with greater results. Women in every corner are getting more and more into excellence with bravery and not leaving any stone unturned. One of the many strong females includes Samar Khan, the cyclist who had ridden the Biafo Glacier in the Karakoram Mountains in Gilgit Baltistan.
Cyclist Samar Khan
Born on 11th August 1990, Samar Khan belonged to a small town of Khyber Pakhtunkhwa Khas Dir. Where women are not allowed to leave their houses without a veil let alone ride a cycle or be into sports. Samar's dreams were also not very appreciated due to her strict family norms. But her love for nature especially mountainous terrains made her passionate about reaching heights where no one can reach. Moreover, the passion for paragliding and cycling became her favorite throughout time.
Samar Khan has done her Masters in Physics from the Federal Urdu University and from there she got introduced to the world of sports and once she entered into it, she never returned. Although she knew her challenges and hurdles she learned it pretty quickly and the rest is history.
Supportive Parent
Samar's father passed away when she was very young and due to the added societal pressure, she had to convince her mother for her dreams. She shared the idea of her becoming a cyclist with her mother and that was a hurdle at first. But after a while, she got convinced and became a rock hard pillar for her passion.
Mount Kilimanjaro Summit
Her love for mountains also took her to the summit of Mount Kilimanjaro. The experience was adventurous for her. She carried the Pakistani flag with pride and rode through tropical forest, alpine deserts and it took her 6 to 8 hours to reach the final summit and she also hopes to summit other mountains in near future as well.
The achievements of Samar Khan
Samar Khan is the first woman in the world to cycle Biafo Glacier on 4,500 meters in the Karakoram Mountains of Gilgit Baltistan in 2016.
Samar also became the first Pakistani to climb the 6,250-metre Burbucho peak in the Shigar district in 2017. The peak was named the 'Samar Peak' after her summit.
She also owns a National record of riding 1000 km on 4693m to Khunjerab. Moreover, she is also a certified paraglider from Kakul. She has also founded the organization 'Pace for Peace,' Two Girls Ride. She is also awarded by Pk Travels for promoting tourism.
Samar Camp
Samar was selected by Global Sports Mentoring Program by ESPNW. She introduced the idea here in Pakistan through a Summer Camp, which helps women and young girls through different sports. These sports include snowboarding, cycling, and hiking, etc. But due to Pakistan being a naturally disaster-prone region, this won't reach up to its professional potential but the aggressive training routine will make girls physically fit.
Pakistani youth has a huge responsibility on its shoulders to bring the country into the limelight. Be it any field either sports, media, or technology. People, especially women should come forward and make everyone proud. As Samar also believes in hard work, consistency, and unbreakable resilience, this is the key to her success and anyone's success.
RECOMMENDED
Read more about Women Empower Wednesday and If you like this article you can also check these