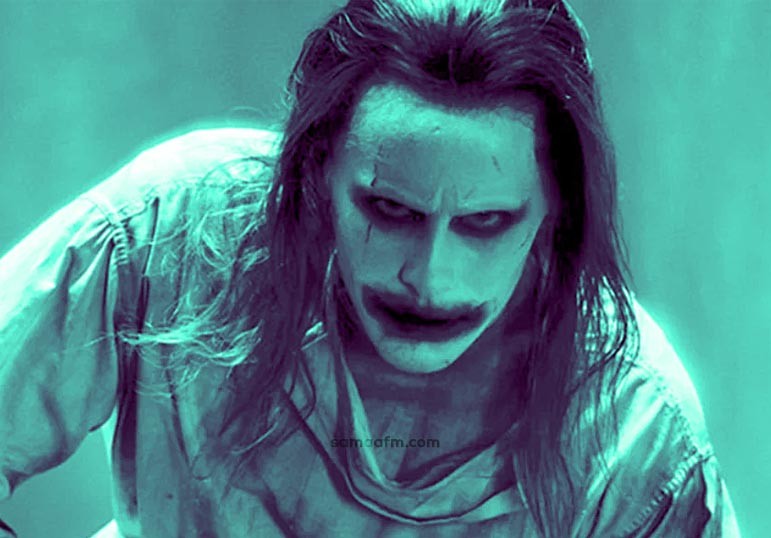 Zack Snyder unveils Justice League first look of Jared Leto
posted by:

Abdul Latif Dadabhouy

No Comments
The first official look of Jared Leto as the Joker in "Zack Snyder's Justice League" has been revealed, by courtesy of Vanity Fair. While Leto had his first go-around as Joker in David Ayer's "Suicide Squad," his look as the infamous Batman villain for the Zack Snyder Cut is vastly different this time.
The tattoos this time are surely nowhere to be seen as they were in Suicide Squad. The version of Joker by Zack Synder will be seen with longer hair and wearing a hospital gown and a surgical mask. The director told Vanity Fair his Joker also sports a bulletproof vest with law enforcement badges that represent "his trophies."
As for how Leto's Joker factors into the Zack Snyder Cut, Vanity Fair reveals: "Joker appears in the new film during a sequence set on a ruined Earth after the alien tyrant Darkseid invades and decimates the planet. It's a dream sequence, a psychic vision, experienced by Ben Affleck's Bruce Wayne that reveals what will happen if the superheroes fail to stop the onslaught. Joker is sort of the Ghost of Christmas Yet To Come, supplying motivation through terror."
Jared Leto's clown sovereign was not a piece of Zack Snyder's unique arrangement prior to leaving the film in 2017 in the midst of a conflict with Warner Bros. leadership and misery over a family misfortune, however, whenever HBO Max offered him the opportunity to conclude his own cut of the film, the chief had a couple of things he needed to add to the hotly anticipated #Snydercut. Batman's foe was one of them. "The Joker is really the only thing that I thought of in retrospect," Snyder discloses to Vanity Fair. "But I will say that it was always my intention to bring Joker into that world."
"The cool thing about the scene is that it's Joker talking directly to Batman about Batman," Zack Snyder told the magazine. "It's Joker analyzing Batman about who he is and what he is. That's the thing I also felt like fans deserved from the DC Universe. That is to say, the Jared Leto Joker and the Ben Affleck Batman, they never really got together. It seemed uncool to me that we would make it all the way through this incarnation of Batman and Joker without seeing them come together."
According to Zack Snyder, the Joker scene in "Justice League" will also answer a question that many DCEU fans had after "Batman v Superman: Dawn of Justice" relating to why Bruce Wayne had a Joker card taped to his gun. "Batman v Superman" hinted that Joker killed Batman's former partner Robin, the story of which will be included in Joker's "Justice League" dream sequence.
At the point when he initially started working at DC films 10 years prior, Zack Snyder figured he would, in the long run, bring the villain into the struggle with Batman in a later project, yet after his spat with the studio, he understood that most likely could never occur. All things considered, whenever allowed the chance to at last complete Justice League his way for HBO Max, he requested extra photography to fit Joker into the four-hour occasion, appearing March eighteenth.
---
READ MORE: DAKOTA JOHNSON DISCUSSES WHAT PLAYING A DYING WOMAN TAUGHT HER