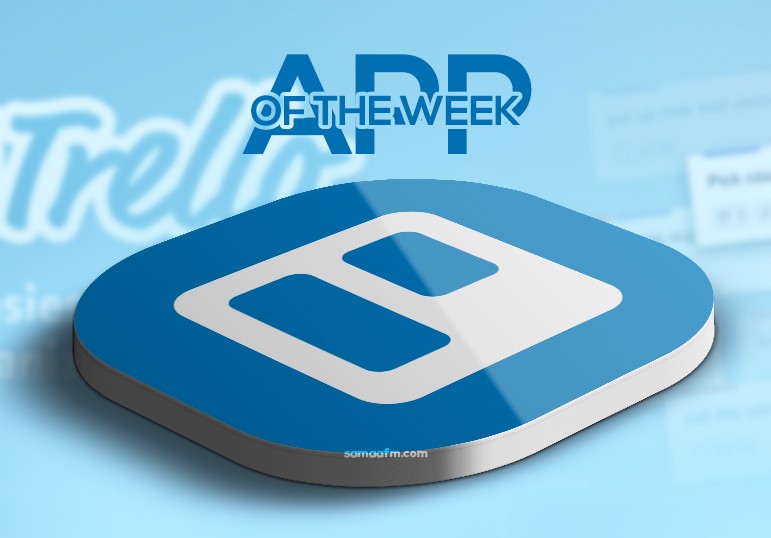 App Of The Week: Trello
posted by:

Abdul Latif Dadabhouy

No Comments
What if someday you enter into your room and you see everything super organized and cleaned? Well, this thought can enter into your mind that sometimes all you need is something or someone that can organize everything for you, your files, your folder, even in some cases your thoughts as well. Well, Trello got your back.
What is Trello?
Trello is an application that provides tools to define your projects and their requirements. The app includes a digital dashboard where you can create, organize, and prioritize actions. The card system employed allows team members to interact and collaborate with each other on projects. The users can add comments, links, files, and photos to project cards. Trello is a web-based project management solution, originally created by Fog Creek Software in 2011. After forming its own company in 2014 it was sold to Atlassian. Whether you're planning a website design project, vacation, or company off-site, Trello is infinitely customizable and flexible for your every need.
Trello Setup
Trello's setup gets into a very easy process and only takes a few minutes. You need a minimal amount of information to download the application to get it started. With just your name, email, password and you are ready to go. Users are immediately brought to their own dashboard. You can work on a previously untitled board or create a new one.
You can also change your name, add your favorite initials, you can set a bio, avatar, password, email, and language settings via your initials at the top-right of the screen. Users can also able to access information regarding keyboard shortcuts from the top right-hand side of the screen. You can also change your avatar from initials to a photo of your choice.
With the easy notification tab, you can change the settings from their multiple options. Users can manage notifications with the 'Notification' icon at the top right-hand side of the screen. You can also get the user-friendly Trello guide from the same tab and you can get to see a different handy tip each time you click on the 'i' icon. Another great option that caught the attention was the people who are color-blind can get extra benefit from its 'Color Blind Friendly Mode.'
Features
Easy Board Creation
With Trello, your team can create boards from the main dashboard or from the Boards tab. With this option, each board can be named to suit the project. You can then include all your boards in your 'To Do', 'Doing', and 'Done' task-list. These can also be scheduled for certain dates and times. Trello presents a default blue background. It can be customized from the right-hand side of the Boards screen. You can change to other colors or use a picture if you prefer. Cards can be filtered with small colored labels and set for certain times as your reminders e.g. 'Due in the next week'. The privacy filter options are the coolest and you can custom them with a rotating tab from Public to private and the team only.
Power-ups
Trello gives Power-Ups, that add extra functionality to all your boards. Add buttons to your boards and that will show you quick previews of your attachment on Trello cards. It also adds up a calendar view, Google Drive, Voting, and Notejoy with the available power-ups. Some options are only available for the premium users, but you can enjoy it much more without paying a penny!
Interface
Trello's interface is simple, clean, and fresh by the looks of it. The main screen displays your recently viewed boards and your own personal boards. You can also create a team list and access other boards from the left-hand side of the screen, which makes this option even easier for navigation.
Support is accessed through your avatar icon. Assistance is available with the help site through online articles, the Trello Community, or you can send Trello a message. Paid subscribers are guaranteed an answer within 24 hours.
Pricing
Trello has three price options. The 'Free' tier option enables unlimited boards, lists, cards, members, attachments, and checklists. The application also includes one power-up per board and you can attach files of up to 10MB or link any file from your Google Drive, Dropbox, and related accounts. The 'Business Class' package costs $9.99 per month when paid annually. This enables all the unlimited power-ups, Google Hangouts (with others), integrations with BitBucket. The Business Class also enables file attachments up to 250MB. You can also organize all your boards with Collections, with full access to who can see your boards, benefit from restricted membership invitations, custom backgrounds, and priority email support.
Trello is available through the website or via a dedicated app for macOS and Windows users. It integrates with a variety of third-party applications. Including Slack, Google Drive, Jira, HourStack, Gmail, Placker, Box, and Gantify amongst others.
Trello is a flexible and fun project management tool. It is simple, clutter-less, and handy. Everything is displayed coherently, and you will find absolutely no problem getting a hang of your project's progress through with this platform.
---
Recommended Apps
If you like this review you can also check these
–  Lastpass Password Manager Review