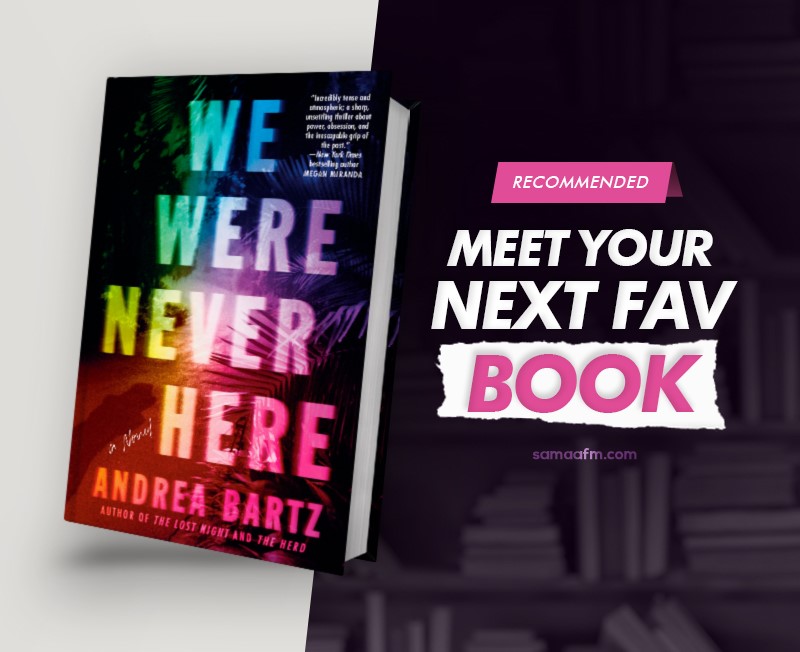 Book Review: We Were Never Here by Andrea Bartz
posted by:

Abdul Latif Dadabhouy

No Comments
If you enjoy reading, you may have read one or maybe two thrillers in your life. However, if you aren't a fan of thrillers, the book I'm about to review could persuade you otherwise!
I'm the harshest critic of this genre out of all the ones I read. If it isn't worded perfectly, it makes me bored. However, Andrea Bartz's thriller We Were Never Here has changed my mind about thrillers. It's one of the most thrilling storytelling adventures you'll ever have! As a result, a well-written one is a thrilling journey.
We Were Never Here by Andrea Bartz
We Were Never Here is a thrilling, thought-provoking thriller drama about two ride-or-die best friends who get together once a year for an epic journey. It's a unique type of friendship that author Andrea Bartz defines perfectly.
This novel is every suspense fan's fantasy, and it will have you flipping pages well past your bedtime. A novel is full of unexpected twists and turns that will have you foregoing your Friday night plans in order to read more.
 

 

View this post on Instagram

 
We Were Never Here by Andrea Bartz Book Review
Kristen, one of the protagonists in the book, kills a guy while on vacation with her closest friend, Emily. Kristen claims she acted in self-defense, but the event seems strangely similar to something that happened last year while they were on vacation together. As a result, Emily begins to doubt her friendship with Kristen and the events of that evening.
Emily returns to Wisconsin after attempting to cover up the crime in order to restart some sort of regular life. However, Emily is thrown for a loop when Kristen shows up and declares her plan to return to the city, throwing her into a tailspin—how is she expected to forget what occurred when she has a daily reminder with Kristen?
Not only that, but Kristen is acting as if nothing has occurred, leading Emily to doubt everything.
Bond between friends!
We Were Never Here delves further into this friendship than only the killings. Emily and Kristen met in college and have remained really close ever since. They have a ride-or-die vibe about them, as though our bond is more important than everything else.
But what happens when they become embroiled in not one, but two murder cover-ups? And how does Kristen manage to act as if nothing happened? They got away with murder not once, not twice, but three times. What effect does this have on a person's mind? And while their big secrets bind them together, Emily is clearly carrying a heavy burden. Kristen's odd reaction isn't helping matters either.
Final verdict
This book is much more than just a murder, it revolves around things that will make you think and wonder what possibly is strong about a friendship? You might want to read it!
RECOMMENDED BOOKS
If you like this Book review you can also check these