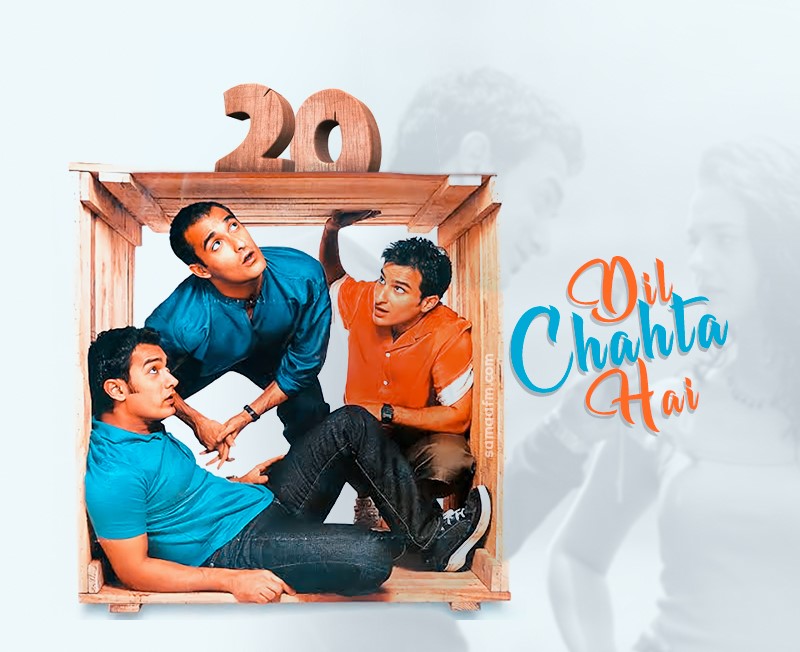 Dil Chahta Hai turns 20 with the lesson of strong love and even stronger friendships!
posted by:

Abdul Latif Dadabhouy

No Comments
The cult classic Dil Chahta Hai
20 years ago, three best friends went to Goa and that changed the meaning of 'Dosti' as displayed in the Hindi film industry. No focuses on speculating which film we are discussing. The cult classic, 'Dil Chahta Hai' it is. The film, even following 20 years leaves you cheerful and in tears.
When the movie got released in 2001, I was hardly eight, but I still remember it used to be my father's favorite movie, and now I can safely say that it is our favorite family movie. From repeating movie dialogues on certain relatable situations to playing songs on full volume and singing them along is something every 27-year-old once did in their lifetimes with Dil Chahta Hai.
The impeccable trio of Dil Chahta Hai – Sid, Akash, and Sameer!
Dil Chahta Hai is a fine illustration of a film with an immaculate and impeccable cast. Aamir Khan, Akshaye Khan, and Saif Ali Khan shaped the trio of best friends from college who had a heartbeat on the thing the other was thinking. Each character speaks to you and is relatable.
Aamir Khan was the smooth 'Akash' who infused fun and verve into a rich, commitment-phobic brat, Sid (Akshay Khanna) as his quiet, silent, and brooding friends was his ideal foil. They had contrasting personalities yet they appeared well and good together as best friends.
Saif Ali Khan as Sameer was flamboyant, indecisive, impulsive and the confused entertainer, but turns out to be the most mature one from the group who got between the crossfire among two dearest friends who have a fallout. Each had an alternate condition with the other, yet this triangle is fun to watch every time.
The film marked Farhan Akhtar's directorial debut and also starred Preity Zinta, Dimple Kapadia, and Sonali Kulkarni.
The life is busy these days and no one really has time for things and being in a pandemic is also quite depressing for the world. The old Indian Bollywood movies from the 2000's era became my survival kit for the quarantine life. While watching Dil Chahta Hai. I found out certain heart capturing points,
Friendships come within
No matter how far you get, friendships stay! Dil Chahta Hai perfectly summarized friendships for me. Not just the fun parts, the painful parts too. Not every friendship is glitters and gold. Friendship requires effortlessness, patience, and balance. Without these elements, it won't last forever.
Finding love unexpectedly with a punch!
Musketeering through 2001 vibes, Dil Chahta Hai speaks volumes to this date. This movie made us believe that there is no right timeline for falling in love.
You can fall in love anytime, anywhere and [might be with someone else's fiance] but if love happens with the right person, no one can take that away.
The trio, Akash, Sameer, and Sid find love in the most unexpected ways and this gives us hope that it can happen to us as well!
Stars recollect memories of Dil Chahta Hai
Preity Zinta termed the feeling of "celebrating 20 years of Dil Chahta Hai" as "surreal."
Preity writes, "This is surreal, celebrating 20 years of Dil Chahta Hai." She went on to recall having fun on the set of the film. "I remember Farhan Akhtar telling me that whenever he makes a film, he would love for me to be a part of it. A few months later, we signed on for the movie and we had so much fun on set," she wrote.
Shankar Ehsaan Loy also shared a nostalgic video along with the cast of the movie,
Meanwhile, Farhan Akhtar shares that he never thought of remaking or release a sequel to the movie. On turning 19, the producer shared a heartfelt post on his Instagram,
And somehow Farhan is right. This movie needs no remake!
Have something to add to the story? Comment down below!