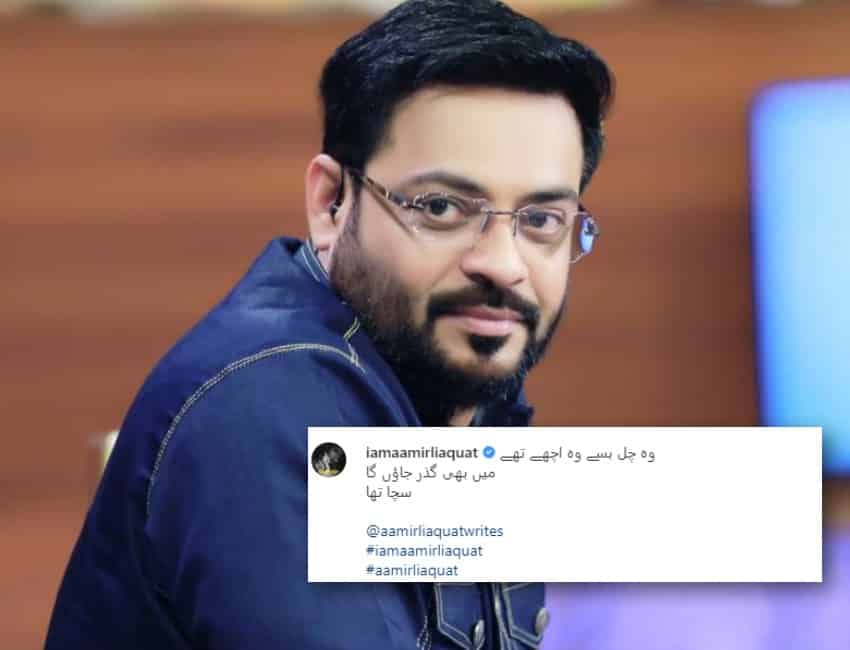 The pioneer of Ramzaan transmission in Pakistan Dr. Aamir Liaquat Hussain
posted by:

Zainab Naseem

No Comments
The pioneer of Ramzaan Transmission Aamir Liaquat Hussain
A horrible end to a glorious start! Aamir Liaquat Hussain is a name that everyone is familiar with. I imagine that everyone in Pakistan, regardless of age, is familiar with him. And we all know him from GEO TV's "Aalim Online." Following that, we saw him on screen as a Ramzaan transmission host. Dr. Aamir Liaquat Hussain, the top-ranking TV anchor, was the one who introduced the concept of Ramzaan Transmission and Inaam Ghar to television. After that, everyone followed him throughout his statements. failed marriages and public stunts.
His early life
Hussain was born in Karachi on July 5, 1971, to politician Sheikh Liaquat Hussain and columnist Mahmooda Sultana. In 1995, he received his Bachelor of Medicine, Bachelor of Surgery (MBBS) degree from Liaquat Medical College Jamshoro, and in 2002, a now-famous degree mill, Trinity College and University awarded him a Doctor of Philosophy (PhD) in Islamic Studies. In addition, he has stated that he received a Master of Arts in Islamic Studies from Trinity College and University in 2002.
Also Read: Dania Shah files for divorce from Aamir Liaquat on the basis of marital abuse
Aamir Liaquat Hussain career
He began his career in 2001, he became a founding member of Geo TV, where he hosted the religious show Aalim Online. Hussain left Geo TV in 2010 to become the managing director of ARY Qtv and executive director of ARY Digital Network. There, he hosted the religious programme Aalim Aur Aalam. After rejoining Geo TV in 2012, he hosted Pehchan Ramazan in 2012 and Amaan Ramazan in 2013. He joined Geo TV as vice president in January 2014 and presented the game programme Inaam Ghar. He also served as president of Express Media Group where he hosted Pakistan Ramazan. And he worked for BOL media company as an anchor of a talk show Aisay Nahi Chalay Ga.
Also Read: The rise in divorces is due to 'ungrateful, independent' women, says Aamir Liaquat
In 2017, he hosted Ramazan Mein BOL, at which time he also began hosting Game Show Aisay Chalay Ga. In November of 2017, he departed BOL. He joined Pakistan Television Corporation in 2019.
Political career
Aamir Liaquat has been named The 500 Most Influential Muslims in the World three times and is one of Pakistan's 100 most popular people. From August 2018 to October 2021, he also served in the Pakistan National Assembly until resigning from the Pakistan Tehreek. -e-Insaf. Previously, he was a member of the National Assembly from 2002 to 2007 and served as the Minister of State for Religious Affairs from 2004 to 2007 in the federal cabinet of Prime Minister Shaukat Aziz. He stepped out from politics in 2007. MQM dismissed him from the party later that year.
Also Read: Tuba Anwar announces khula from Aamir Liaquat
Aamir Liaquat passed away; found dead at his residence
On Thursday, 9th June Aamir Liaquat was found dead at his residence, shocking the entire nation. The reasons are still unknown how he died.
Netizens have been speculating that he might have committed suicide or could be drug overdose as he was seen taking crystal meth and cocaine on several occasions by his ex-wife Dania Shah.
Twitter in shock after Aamir Liaquat's death
Fellow host and TV person Iqrar-ul-Hassan shared his condolence for the late televangelist,
Arslan Naseer shared a rather sad thought in his tweet,
Waseem Badami also tweets,
Salman Iqbal also tweets,
Second wife Syed Tuba tweets,
His ex wife Dania Shah posted a story on her Instagram,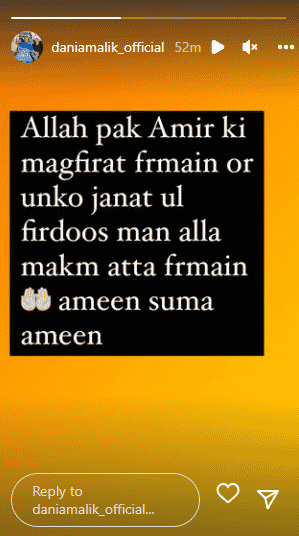 Reason of Aamir Liaquat's Death
Aamir Liaquat was packing to leave Pakistan, according to one of his househelps, and he cried a lot while packing, causing his health to deteriorate. He also revealed that he was depressed following his encounter with Dania Shah. He also stated that when he entered the house, it was full with smoke, which he believes may have contributed to his death as well as his cardiac problems.
On this actor Farhan Saeed also tweets,
Actor Meruub also added, saying stop aimless trolling on people!
Rest in peace, Aamir Bhai. ( 1971-2022)
Have something to add to the story? Comment down below!