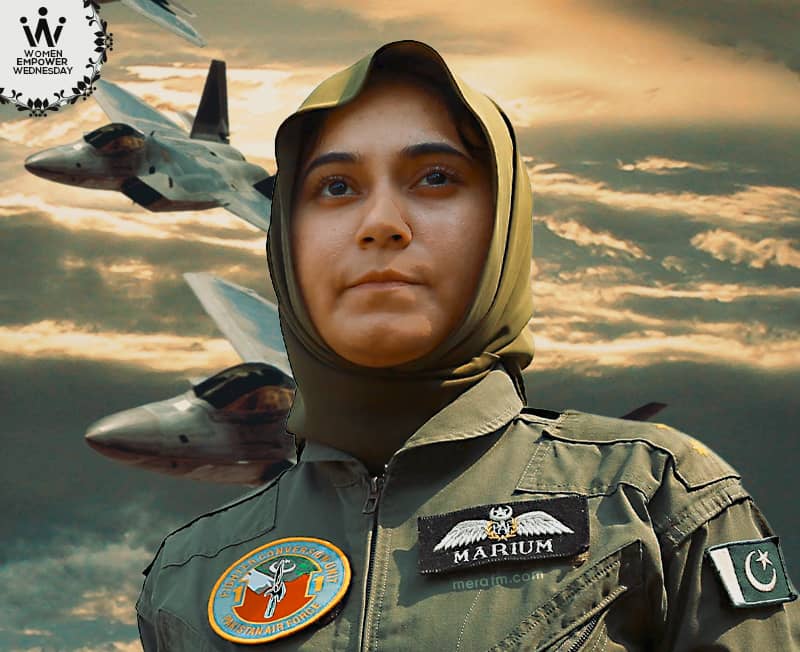 Women Empower Wednesday: The Nation's brave daughter Marium Mukhtiar
posted by:

Zainab Naseem

No Comments
The braver women
Women Empowerment doesn't need a specific day to come together and form a unity. Women from all different backgrounds and cultures can band together anyway to fight for gender parity and women's rights. And can even give their lives for their country. Today we will remember and give our tribute to one of the bravest fighter pilots, Marium Mukhtiar. Who became the first female Air Force Pilot to embraced martyrdom.
Also Read: Women Empower Wednesday: Sub Lieutenant Pak Navy Fatima Changezi
Women in various roles in society, such as mothers, sisters, daughters, and so on, constantly put others first. Out of those Marium exemplified this spirit in carrying out her duties and embracing martyrdom. All while saving the lives of the on-the-ground community.
Marium Mukhtiar
Colonel Ahmed Mukhtiar's daughter, Marium Mukhtiar, was born in Karachi and raised there. She went to Mehran Model School and College Pano Akil before transferring to the Army Public School and College (APSACS) in Malir Cantt, Karachi. In the National Women's Football Championship, she represented Balochistan United. She studied civil engineering at NED University before joining the Pakistan Air Force (PAF) in 2014 as one of six female fighter pilots. She was also interested in charity work, supporting a school for children whose families could not afford to send their children to school.
The martyrdom of Marium Mukhtiar
On November 24, 2015, Pakistani Flying Officer Maryam Mukhtiar was flying a FT 7PG aircraft with Squadron Leader Saqib Abbasi when they experienced a significant in-flight mishap. As a result, an unfortunate event occurred about 175 kilometers (109 miles) southwest of Islamabad in Kundian, Mianwali district.
Also Read: Women Empower Wednesday: Sub Lt. Atiya Zeeshan
The reality of life is that with tremendous power comes enormous responsibility, and Pilot officer Maryam Mukhtar, admiring the nature of existence, fights back to the best of her abilities.
Tamgha-e-Basalat
Marium Mukhtiar has been nominated for a state award by the Pakistan Senate Standing Committee on Defence (SSCD). The Pakistani government presented her with the Tamgha-e-Basalat military medal.
Have something to add to the story? Comment down below!
Also, find out more inspiring Women Empowering stories here!