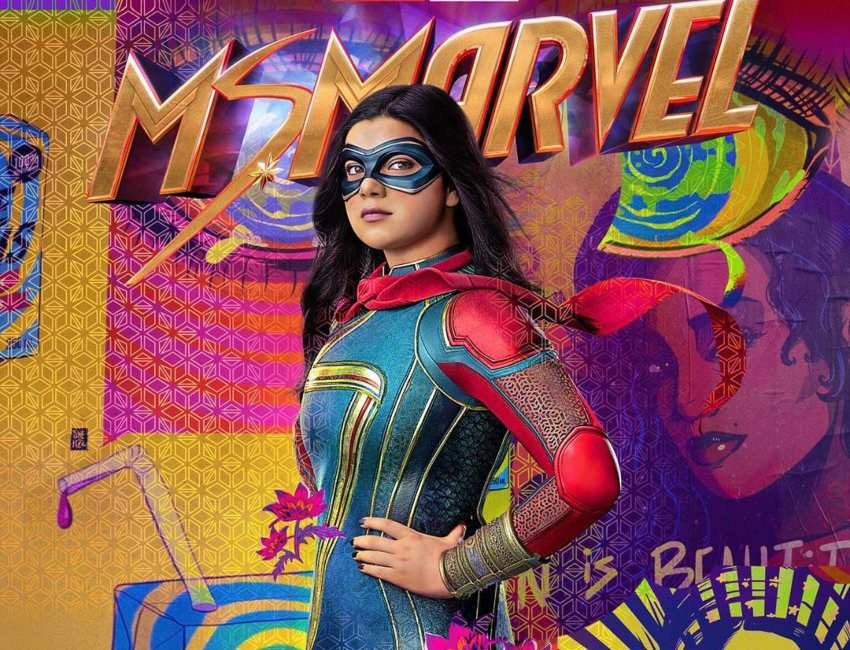 Friday Flix Series of the Week: Ms. Marvel
posted by:

Abdul Latif Dadabhouy

No Comments
A new world of superpowers with Kamala Khan as Ms. Marvel
Ms. Marvel, the newest Marvel Disney+ TV series, has exposed viewers to a variety of new settings in the MCU by showcasing mixed and various cultures, locales, colours, jam-packed action and 'desi' characters.
I don't know much about the Marvel universe because I'm not a fan, but because Ms. Marvel isn't related to any other Marvel films, I figured I should give it a shot and basically start with my first Marvel series.
Ms. Marvel cast
The ensemble caught my attention right away because Kamala Khan, or Ms. Marvel, is not your typical superhero. She is really desi first and foremost. She is originally from Pakistan and comes from a Muslim household. Iman Vellani was the main lead. Mehwish Hayat, Nimra Bucha, Fawad Khan, Samina Ahmed, Saagar Shaikh, Yasmeen Fletcher, Rish Shah, Zenobia Shroff, Laurel Marsden, Mohan Kapoor, and Matt Lintz make up the rest of the cast. Aramis Knight, Farhan Akhtar, Travina Springer, and others make up the additional cast.
Also Read: Ms. Marvel trailer introduces first Muslim superhero in Disney Series
Ms. Marvel storyline
In the pilot episode, viewers learn more about Ms. Marvel's aka Kamala's fangirl side as a result of her and her best friend Bruno's (Lintz) attempts to win the New Jersey AvengerCon; they also learn that she's a bit of a misfit as a result of her frenemy Zoe (Marsden); that her religious life is mostly addressed when she persuades Nakia (Fletcher) that they're the new generation that can bring about change in their community; that her romantic side comes out to play with Kamran (Rish Shah and the Red and, her family heavily influences every decision she makes because, well, she's only 16.
Even with her superpowers, which were effectively bestowed upon her by her grandmother, Bruno is critical to Kamala's ability to fully utilise them. Without his assistance, there is no way Kamala could control the light that drives her purple energy blasts. Ms. Marvel is still having trouble keeping up with her foes more than halfway through the series, which serves as a good reminder that it's entertaining to watch superheroes struggle and occasionally fail because it makes their successes feel like a much bigger reward.
The series also is more emphasised on the dual nature of Ms. Marvel's appeal. Of course, the first is the emphasis on Kamala's family in Pakistan and America. The other is what the Partition did to her family's culture. In the upcoming weeks, it looks that the show will address this from a first-person perspective. That's encouraging for the rest of the season since it suggests that the villains will be left in the past (which is also the present) so that viewers can discover what's crucial.
Final Verdict
So far so good, the storyline is hooking. The amalgamation of locations, colours, direction, wit and action everything is on point! The young Kamala Khan, or Ms. Marvel, played by Iman Vellani, is fantastic. Her original tale of a teenage coming-of-age is introduced in the first two episodes, which are enjoyable, humorous, and colourful. The show is definitely accepting the hype it deserves and the cultural representation is better than what I see and observed in most of the Netflix stories for Muslims, especially the Hijaabi girls.
Watch the trailer here:
Rating: 9/10
Have something to add to the story? Comment down below!