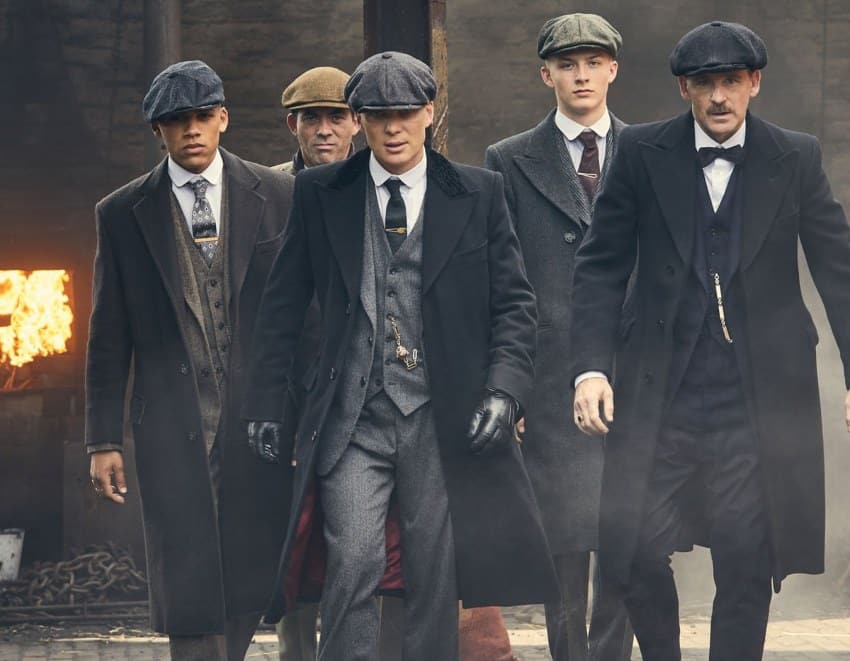 Friday Flix Series of the Week: Peaky Blinders
posted by:

Abdul Latif Dadabhouy

No Comments
By the order of Peaky Blinders
If you're searching for a true picture of 1920s England, look no farther than Peaky Blinders. It's raw, emotional, and unexpectedly realistic. Peaky Blinders revels in its dirty, gloomy image of Birmingham, which revolves around a family aiming to rise to the top of the criminal underworld. There are lots of twists and turns along the road, keeping you guessing and culminating in a shocking final moment to bring the six episodes of magnificent drama to a close.
Peaky Blinders cast
The Peaky Blinders cast includes Cillian Murphy, Paul Anderson, Helen McCrory, Iddo Goldberg, Annabelle Wallis, Aidan Gillen, Joe Cole, Sophie Rundle in lead. The additional cast includes Sam Neill, Natasha O'Keeffe, Finn Cole, Kate Phillips, Tom Hardy, and Charlie Murphy.
What is Peaky Blinders all about?
The Peaky Blinders, a group of suit-wearing, flat-cap-wearing guys who manage a modest betting operation in the heart of one of Birmingham's worst neighborhoods, are at the center of the plot. When a package of profitable firearms ends up in his control, ambitious Thomas Shelby (Cillian Murphy) has his limitations challenged, and he wonders what to do with this risky present. Inspector Chester Campbell (Sam Neill), a cold, calculated Irishman, is hot on the trail of the weapons, promising to return them to Winston Churchill and hold the men involved accountable.
Also Read: Friday Flix Series of the Week: Manifest
While Thomas, Arthur (Paul Anderson), and Aunt Polly (Helen McCrory) wrestle with the moral ambiguity surrounding what to do with the guns, Tommy sets his sights on expanding the company, focusing on Billy Kimber's (Charlie Creed-Miles) burgeoning betting empire in an attempt to dethrone him and take the lion's share of the profits. Throughout the six episodes, both narratives converge and come to a head in an explosive finale, providing a gratifying and surprising conclusion to a strong first season.
The on-point character portrayal of Peaky Blinders
When it comes to the personalities, every one of the main characters is both captivating and memorable, thanks to some outstanding performances all around. Tommy, on the other hand, is definitely the show's standout character; his combination of icy swagger and calculating cruelty makes him a formidable protagonist, with the unpredictable Chester Campbell becoming a great rival for him, aided by Sam Neill, who nails his role to perfection. Arthur's hotheaded innocence contrasts wonderfully with the other members of the family as he tries to restore his place as the business's front-runner.
Also Read: Friday Flix Series of the Week: Emily in Paris
This character-driven approach also works well throughout the series, with flashbacks to Tommy's experience in WWI tormenting him at various points. This, combined with different establishing shots and sweeping camera motions, helps create not only the aesthetic of the era but also the mood and attitude of its various socioeconomic strata. All of this is aided by the lighting, which mostly employs a somber orange palette to cast sinister shadows across faces and bathe settings in a mysterious tint. The glaringly bright images at Kimber's estate, as well as sequences with higher-status persons out in the open during the day, contrast nicely. It's a minor detail, but it adds to the overall appeal of this six-part series.
Final Verdict
Peaky Blinders is a once-in-a-lifetime crime drama. It not only authentically depicts the time period with a realistic set and costume design, but it also does so with a cast of fascinating characters at its core. Thomas, on the other hand, is the star of the show, and Cillian Murphy plays him with such quiet intensity that it's difficult not to be pulled to him whenever he appears in a scene. While the plot can feel overly convoluted at times, particularly in the penultimate episode, Peaky Blinders just about pulls it all together for a compelling ending packed with tension and drama, resulting in an amazing first season of entertainment and an exciting promise for the future.
Also Read: Friday Flix TV Show of the Week: Dark
Where to Watch Peaky Blinders Season 6?
The new season of Peaky Blinders debuted on BBC One on Sunday, February 27th, and will air every week until the second Sunday in April. And, because it's predominantly shown in the United Kingdom, it's easier to watch if you live there, as you have two options. The BBC iPlayer and the television (does watch a show on TV feel old-fashioned in the age of streaming? You may sign up for free to view all BBC programs, including Peaky Blinders, but it's only available within the United Kingdom's geographical limits.
Have something to add to the story? Comment down below!