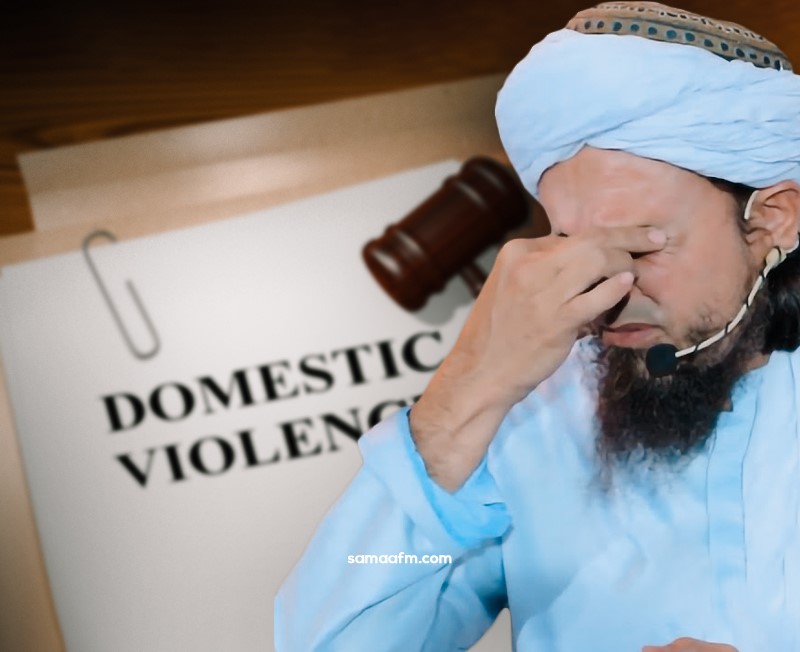 Mufti Tariq Masood rejects Domestic Violence Bill 2021, says it's for donkeys and horses!
posted by:

Abdul Latif Dadabhouy

No Comments
Mufti Tariq Masood, not again!
Living in this country where religious scholars or fanatics reject everything is the hardest pill to swallow. Anything that doesn't fill their own purpose and their own profits gets rejected. Mufti Tariq Masood jumps again with his statement that the new bill for Domestic Violence 2021 is for donkeys and horses, and we think is he serious?
In a country where the domestic violence rate is extremely high and problematic statements like these are nothing but a dreadful reality. In a recent bayaan, Mufti Tariq Masood said that man has the right to be harsh on his wife and children to 'preserve the family.' He further said that once he beat his son and he has stopped bunking classes from school. He states that Senate's Domestic Violence Bill 2021 is for donkeys and horses, not for the welfare of humanity.
Mufti Tariq also said a few days ago that women dentists are the real problem behind unfaithful men. And lady doctors should not treat male patients.
Read More: Mufti Tariq Masood says that women dentists are the real problem behind unfaithful men
In response, an outrage started on Twitter. A user replied,
Another user replied,
And this bill rejection comes right after a video on Facebook got viral where two brothers were beating his sister and mother brutally with a helmet and a hammer because she asked for a 'virsa' (land dispute).
Domestic Violence Bill 2021 rejected in the senate
Domestic violence in Pakistan is a valid and horrific reality and people think it is okay because it is common. Twitter was trending with a hashtag that says 'we reject domestic violence bill 2021.'
We live in a society where Law enforcement authorities do not view domestic violence as a crime and usually refuse to register any cases brought to them. Ansar Abbasi along with Mushtaq Ahmed (Jamaat-e-Islami), Atta ur Rehman (Jamiat-e-ulema-e-fazi and Rana Maqbool from (PMLN) rejected the bill. Abbasi tweeted,
In reply, a user replied,
Domestic violence cases in Pakistan
According to a report Pakistan is ranked as the sixth most dangerous country in the world for women and the second-worst in the world (ranked 148th) in terms of gender equality by the Global Gender Index 2018.
Although Pakistani society discourages reporting, the NGO White Ribbon Pakistan reports that 47,034 women faced sexual violence, over 15,000 cases of honor crimes were registered, and more than 1,800 cases of domestic violence and over 5,500 kidnappings of women took place between 2004 and 2016. Moreover, according to the media reports, more than 51,241 cases of violence against women were reported between January 2011 and June 2017.
Sustainable Social Development Organization also revealed that domestic violence cases increased in 2020 by 200 percent. Furthermore, a spike of up to 360 percent was witnessed during the month of March 2020.
Moreover, the crimes included early child marriage, child abuse, child labor, domestic abuse, kidnapping, rape, violence against women, and murders. It has been found that more than 90 percent of the felonies were committed against children and women.
Want to add something to the story? Comment down below!