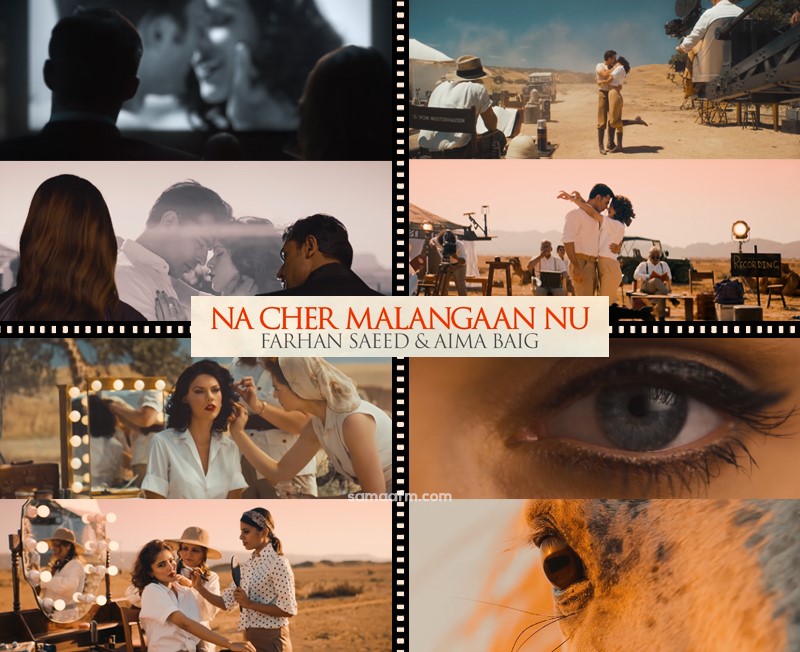 Na Cher Malangaan Nu by Farhan Saeed and Aima Baig is a tribute to Taylor Swift's Wildest Dreams
posted by:

Abdul Latif Dadabhouy

No Comments
Pakistan is getting into a phase where you see the brilliant direction and good cinematography in music videos. Whether it's new-age directors Adnan Qazi, Jalal, Humza Chaudry, Shani Ali, Ijlal Azam, Abdul-Rehman Malik, Adnan Aslam, and, Hashim Ali or newly emerging artists all of them are proving their mettle as they grow in the industry, transcending and learning. We also witness inspirational music videos too. Recently Aima and Farhan's new song 'Na Cher Malangaan Nu' is garnering quite the attention. And we will tell you why,
Na Cher Malangaan Nu by Aima Baig and Farhan Saeed
Produced by Bilal Saeed and directed by Adnan Qazi, Na Cher Malangaan Nu is a sad-romantic ballad. Under the concept of 'the more you love the more, you hurt' the song is in Punjabi language and tells you the tale of two people falling in love and breaking their hearts.
Na Cher Malangaan Nu music video
The music video features both the protagonists in a 1980's setting, with white button-downs, khakis, and leather boots. [Um… no I am not talking about Wildest Dreams by Taylor Swift, yet!] The duo was seen sharing romantic gazes, some tantrums, and a story in the music video. The whole first part was in fact the exact copy of 'Wildest Dreams.'
Heavily inspired by Taylor Swift's Wildest Dreams
Adnan Qazi, announced – after netizens noticed and pointed the similarities between the said music video's official poster and the 2014's Taylor's song [Directed by Joseph Kahn] – that the song is in fact an inspiration from Taylor Swift's song.
That got maestro Joseph Kahn's attention and he responded with a tweet-reply, saying "Lol cool. Hi Pakistan."
Adnan in a post on Instagram writes, "I remember it was September 2008 when I first heard & saw @taylorswift 's Love Story and I was in an awe of how amazing the video and the song was, at that point I wasn't sure if I wanted to be a filmmaker but I knew if I ever will I'll make videos like those."
Also Read: Music Review: Sajal Aly dazzles in Atif Aslam's new track Rafta Rafta!
He further writes, "Time passed and my love and passion for her videos and music grew so much and her collaborations with @josephkahn always inspired me a lot, it wasn't until very recently when Farhan discussed this song with me and I told him that I would like to pay a tribute to Taylor & her videos through this particular music video, without having a moment of a doubt him and Aima put their trust in me as an artist and allowed me to do, whatever I wanted to do. Obviously, I am not claiming that I can be as good as Taylor's video or the concept but it's a complete honor for me to create something even as close as Wildest Dreams, thank you Taylor, and thank you Joseph Kahn for always-always inspiring me to become better at my craft and a better person."
Watch the whole music video here:
Have something to add to the story? Comment down below.