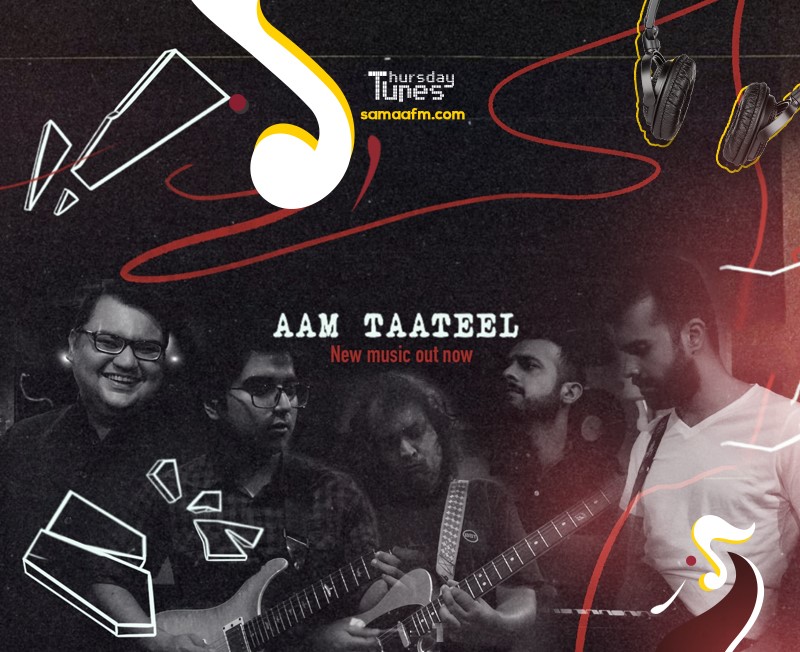 Thursday Tunes: A new wave of classical fusion with Aam Taateel
posted by:

Abdul Latif Dadabhouy

No Comments
Underground band culture is prevalent nowadays, especially in Pakistan. We now see good bands emerging from different platforms, there is no denying it. Music speaks volumes. There used to be a solid band culture in the 80s in Pakistan which faded with time and now this revival is a ray of hope. In these emerging bands like Bayaan, Auj, Takatak, and Kashmir who are working on different genres and creating quality music, some bands are still flying solo under the radar that includes our today's pick, Aam Taateel.
The band was introduced to us during lunch hours when the water cooler gossip shifted towards poetry and then towards 'Chaaraasaazi' and then we listened to the band for the first time and binged on to it and discovered Aam Taateel in literal words!
Aam Taateel
Hailing from Karachi Pakistan, Aam Taateel is a local underground band. The band members include Ali Hassan (Vocals), Usman Sheikh (Drums, vocals, and rhythm guitars), Sohaib Ali Khan (Keys), Ahad Husain (Lead and rhythm guitars), and, Ather Ahmad (Bass). The band fuses Eastern Classical music with Western instruments that create a vibrant and more unique kick to their music. Aam Taateel band's vision is to blend present contemporary Urdu Literature with post-modern music.
While 'Postmodernism' is the most misconceived and misinterpreted term in our society. We are witnessing Aam Taateel creating a revolution in it through their music. Moreover, creating a fair understanding of the 'mushkil shayiri' for the Urdu readers.
Yaaro
Written by Peerzada Salman – a prominent Journalist and a poet – Yaaro is a ghazal that tells a tale of different existential dilemmas that we experience as a human. The fear of death, happiness, the search for one's true self are some of the realities that this ghazal addresses. Usman Sheikh owned the ghazal's poetry and made it shine through their album 'Khudsar.'

The music video is an unmistakable visual treat. It is haunting, yet beautiful. The ghazal starts slowly reflecting on the lives of people who are leading completely different lives and battling to live with a blend of emotions. The song gradually proceeds to the climax as agitation goes for a human. The genius selection of poetry amalgamated with the arrangement and instrumentation. The bass guitar solo in particular won our hearts.
Watch the music video below,
Aam Taateel's Khudsar album also features Jaun Elia's poetry including Woh Tabiyat, Bohat Dil ko Kushada, Beqarari, and Aakhri Baar. Furthermore, it also includes poetries of Waheed Noor, Rajinder Krishan, and Yasra Rizvi.
Also Read: Thursday Tunes: Choro by Natasha Noorani is all beauty in pastels, aesthetics, and sadness
Regardless of how brutally the coronavirus pandemic has crippled the industry, Pakistan did find one of the good years in 2020 and 2021 in terms of original music, uncanny but true. The diversity of genres from prolific Indie-pop, to Progressive Rock. From Metal to Classical Fusion, music surely loops us all.
Have something to add to the story? Share in the comments below.