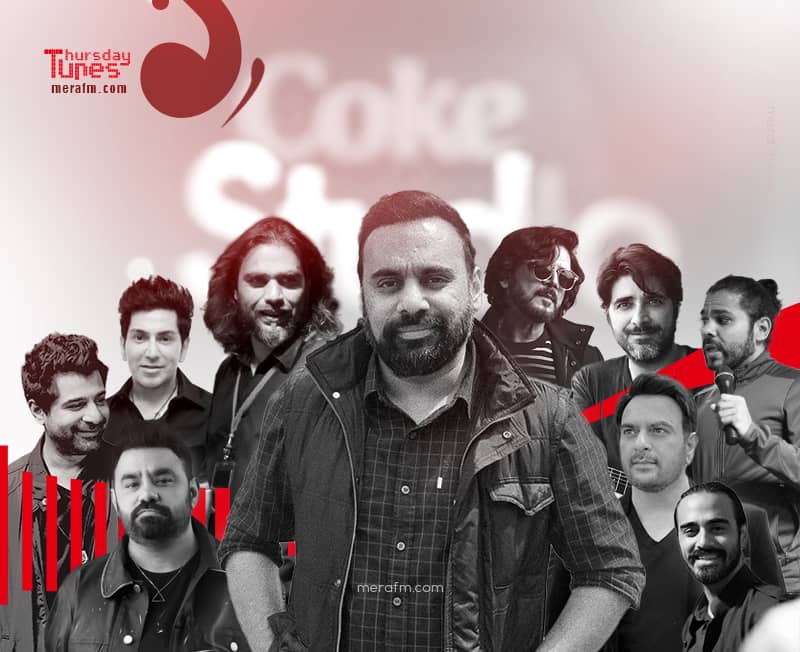 Thursday Tunes: Creating a legacy with Coke Studio season 14!
posted by:

Abdul Latif Dadabhouy

No Comments
Music connecting people through and through
Rohail Hyatt founded Coke Studio in 2008. For anyone with CS, Rohail Hyatt is a well-known name; he was a key member of the boyband 'Vital Signs' from 1986 until 1998, alongside Junaid Jamshed. It was a novel concept for the people, as live-recorded music sessions with synchronized arrangements and live singing were not very popular in Pakistan, let alone being backed by a beverage company. However, something struck a chord with the audience.
Coke Studio season 1 to 12
From season 1 to season 6, Rohail Hyatt was the sole producer at Coke Studio, and after that, Strings the band, featuring Faisal Kapadia and Bilal Maqsood, co-produced three seasons with Rohail.
Then, for the first time, from Season 9 to Season 13, multiple producers were involved in the seasons, including Strings and Rohail Hyatt as executive producers. Shani Arshad, Faakhir, Shuja Haider, Ali Hamza, Shiraz Uppal, Jaffer Zaidi Zohaib Kazi, and Xulfi are among the Pakistani musicians on the list.
The distinctive new wave in Coke Studio Season 14
As a long-time fan of Nescafe Basement, I've always longed for Zulfiqar Jabbar Khan to produce Coke Studio because he's known for introducing new, young voices to the show. NB was regarded as a maestro after performing several cover songs by new performers. He was then given the opportunity to produce Coke Studio 14. And then there's this musical marvel!
Also Read: 'Ye Dunya' Coke Studio 14 shares a metal-rap infused message
Everything about this season was unique, from the opening track "Tu Jhoom" to the closing track "Phir Milenge," which discusses the visually appealing set designs as well as the art direction. Season 14 has a more youthful feel to it.
This makes me question why this year? It's because those with a different perspective were given the opportunity to pursue and present their own creative potential. Experimentation is necessary for music. This season was distinguished by its vibrant colors and music video-style sets.
Also Read: Thursday Tunes: Kana Yaari by Eva B, Abdul Wahab Bugti and Kaifi Khalil is the vibe anthem of this year!
Finally, some new artists!
When I saw the lineup of musicians, it was like a dream come true. Let's talk about the artists for a moment. Young Stunners, Faris Shafi, Abdullah Siddiqui, Arooj Aftab, Justin Bibis, Zain Zohaib, and Butt Brothers. Kaifi Khalil, Eva B, Hasan Raheem, Shae Gill, Talal Qureshi, and I'm talking about peak brilliance! They were all new to the platform, and believe me when I say that this might have been disastrous. It was, however, the polar opposite. It was wholesome!
Also Read: Ali Sethi and Shae Gill channels a bohemian vibe in Coke Studio's new song 'Pasoori'
Seeing Atif Aslam in a new light and with a fresh perspective was a welcome addition. Ali Sethi elevated the song with his unapologetic attitude and beautiful singing. Momina Mustehsan's singing style needs to be explored more. Despite this, each artist was able to add weight to it.
Pristine music production
A separate feature article dedicated to the production, composition, and arrangement is required. Sherry Khattak, Action Zain, Arooj Aftab, and Talal Qureshi were among the incredible music production team that worked alongside Xulfi and Abdullah Siddiqui. Furthermore, to add fun and creative originality to the tunes, many artists penned their own lyrics. The whole season was flawlessly accomplished by Xulfi and Abdullah Siddiqui, as well as Action Zain.
Except for 'Mehram,' which had many of us in tears, every song was well created with an enthusiastic upbeat feel!
Coke Studio season 14 most viewed songs in order
And you're probably wondering which song has the most views. Yes, it's Ali Sethi and Shae Gill's "Pasoori." Coke Studio discovered Shae Gill, who turned out to be a hidden gem. Moreover, the song is a lovely addition to Coke Studio and has a staggering 48 million views on YouTube! In addition to that 'Tu Jhoom' and 'Kana Yaari' (the first Balochi language hit song in CS) were next on the list, with 29m and 14m, respectively.
Find the rest according to the views here:
With great power comes great responsibility!
This year's exceptional Coke Studio season 14 has not only produced amazing music but has also pushed the boundaries of creativity to new heights. And now, because the standard is impossible to achieve due to its uniqueness, the following season is predicted to be on par with or better than this one.
Whatever the future holds, we're looking for new and creative music!
Have something to add to the story? Comment down below!
Story by Zainab Naseem Sheikh