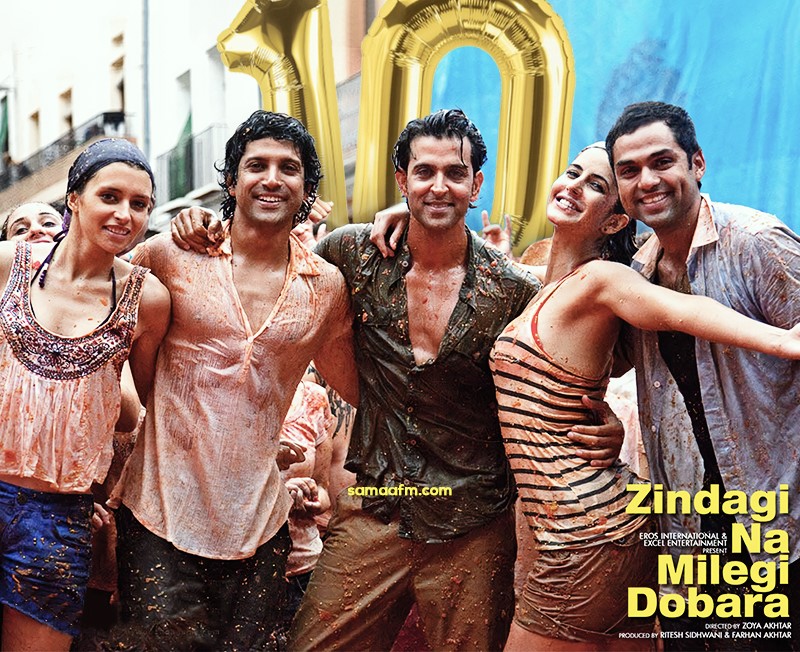 Zindagi Na Milegi Dobara turns 10 today, lessons to learn from the movie!
posted by:

Abdul Latif Dadabhouy

No Comments
Some movies stay with your soul. The dialogues, the direction, the message, everything! Bollywood did produce some fine gems in the past. Movies like Dil Chahta Hai, Rang De Basanti, Lunch Box, Wake Up Sid are not just movies, they simply become the essence of your soul. One of these movies completes a decade today in the industry, and that movie is Zindagi Na Milegi Dobara!
Zindagi Na Milegi Dobara
Produced by Farhan Akhter and Ritesh Sidhwani and directed by Zoya Akhter, Zindagi Na Milegi Dobara is a comedy-drama movie. It features an ensemble cast that includes Hrithik Roshan, Katrina Kaif, Farhan Akhtar, Abhay Deol, and Kalki Koechlin. The movie was partly filmed in India and mostly in Spain, United Kingdom, and Egypt. Shankar Ehsaan Loy provided the background score along with the lyrics of the magnificent Javed Akhtar.
ZNMD – Storyline
The film's story follows three childhood companions, Arjun, Kabir, and Imran, who rejoin for a three-week road trip after a long span of distance among them. They set out to Spain and meet Laila, who falls head over heels for Arjun and helps him overcome his compulsion to work. Kabir and his life partner Natasha experience critical mistaken assumptions, while Imran wishes to meet his biological dad, an artist Salman Habib. During their trip, each picks a challenging, scary, and equally dangerous game for the group to participate in order to take the fear out of the other.
Life Lessons from Zindagi Na Milegi Dobara
In this busy and tech-savvy world no one really has time for anything. We are obsessed with professional life in order to achieve something good for our lives. Along with all of it, we tend to forget life itself. Zindagi Na Milegi Dobara gives us some lessons to learn that we can still live the way it should be!
Your Friendship remains the same
You cannot decide your family; however, you can decide your friends! Your friends are the gems in your life which you chose by yourself. And no matter wherever you go, they will know you and will have your back. They might make fun of you or pull your leg, but at the end of the day, they will be there when you need someone the most!
You can find love in the most unrelatable circumstances
Sometimes when you go out to find love, it might not reach you. But that will happen and in the most unexpected ways. The beauty of Zindagi Na Milegi Dobara was that it resonated with reality. It spoke volumes with its dialogues. The part where Laila and Arjun realize their love for each other was magical and shows how unexpected things can happen, yet how wonderfully!
Forgiveness is important
The movie gives out the beautiful message of forgiveness that how during the most uncertain and angriest of the moments, forgiving settles everything down eventually. Instead of just filling yourself with negativity, you can let go and enjoy!
Money is not everything
Even though the movie's whole Spain trip revolved around having the aspect of money, the movie still gives a good message here. That even having all the wealth you can't guarantee happiness. Arjun overworked his entire life to achieve excellence; however, his heart has a void that he couldn't fill and was eventually filled by friendship!
Also Read: Revisiting Sanjay Leela Bhansali's Devdas on its 19th anniversary
Zindagi Na Milegi Dobara Turns 10
The cast reunites over a virtual meeting as Zindagi Na Milegi Dobara turns 10, the cast shared their experiences together. Indian host Vir Das reviews probably the fondest recollections from the film shootings. One of the scenes Hrithik Roshan and Katrina Kaif reminisce back was the place where the duo was asked to go underwater revealed Hindustan Times. While the Kaabil star named that specific scene as his favorite, Kaif said that she was terrified!
Furthermore, the group also giggled over the song 'Ik Junoon,' where they all danced at the Tomatina festival. Roshan reminisces, "I didn't have tomatoes for three or four months. None of us could endure the tolerate the presence of tomatoes after that song. The sort of smell that we suffered!"
Well, since we did not have to smell the music video, we enjoyed it to our core!
Will there be a ZNMD sequel?
The actor revealed that the possibility of a sequel is always there. He said, "be it in 5 years or 15 years, that doesn't matter. In fact, that would be really cool!"
But he also added that "But I don't think Zoya is the kind who would want to make it, just because people want it. She has to stumble upon an instinctive, inspired thought about the sequel that would then fuel her mind to take those steps into building it into a script." Furthermore, he said, "The potential does exist as the film is about life and friends — some very interesting things could happen. The more time we spend away from these characters… them coming back after years, it would be interesting to revisit their journeys."
Have something to add to the story? Comment down below!