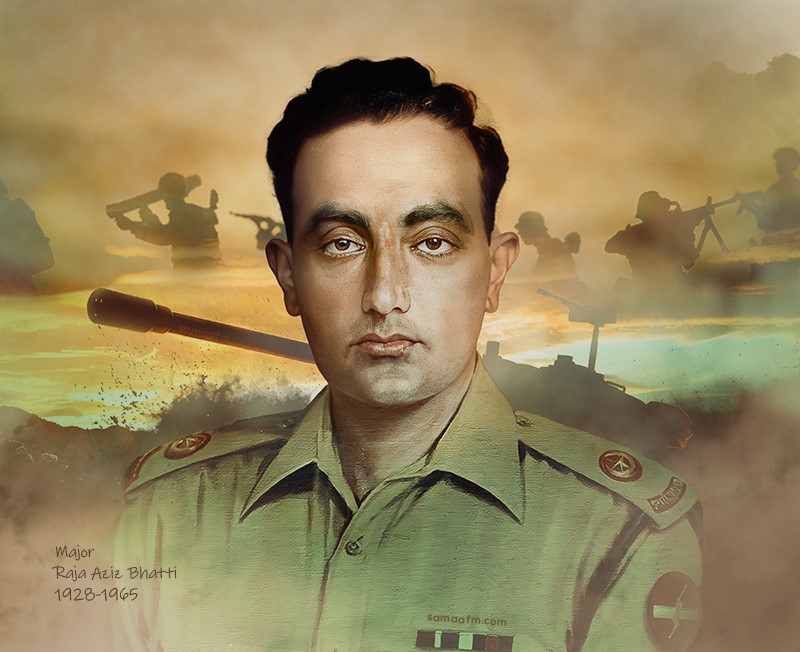 Paying Tribute to Major Aziz Bhatti on his 56th martyrdom anniversary
posted by:

Abdul Latif Dadabhouy

No Comments
Soldiers of a country who fight and die for the defense of their cherished homeland are among the bravest and hardy animals on the planet. Pakistan has had its fair share of wars during the last 72 years. Our history books are now littered with innumerable harrowing, often horrific, but courageous stories of our brave troops. We learn about them from our grandparents, see and read about them in the news, and admire their bravery and grandeur. The tale of Major Aziz Bhatti is one such example.
Who is Major Aziz Bhatti Shaheed?
Major Aziz Bhatti was born in Hong Kong in 1928. He was relocated to Ladian village in the district of Gujrat before Pakistan's independence in 1947. In 1950, he enlisted in the Pakistan Army and was assigned to the Punjab Regiment.
Also Read: Pakistan Defence Day: Our martyrs our pride!
He received the Nishan-e-Haider for his valorous acts at the Battle of Burki in the second war with India in 1965.
The Story of bravery and endurance Major Aziz Bhatti
Major Raja Aziz Bhatti Shaheed, the receiver of the Nishaan-e-Haider, has such a life narrative. Every man, woman, and kid in Pakistan recognize his name. He is a national hero and an inspirational commander. He led a small group of men in a gallant defense of the Burki sector in Lahore. To illustrate, this happened during the 1965 war with India. Maj. Aziz Bhatti staged a robust, impregnable resistance against the Indian Army while being outmanned and under constant enemy fire. Our hero refused invitations to rest or even meets his family in Lahore and pressed on.
Also Read: Abdul Sattar Edhi: A superhero without a cape!
The day of Shahdat
On 10 September 1965, Maj. Bhatti was on a routine when he stood up from his trench to observe the enemy position despite being warned by the army sergeant to take cover. He moved out of the target– the advice was unheeded by Maj. Bhatti and justified his actions of taking a better view before order the artillery of targeting the Indian Army's armory. Furthermore, during an intense exchange of artillery fires between the two armies, he was hit by an enemy tank shell and embraced Shahadat. In the face of a furious adversary, the brave soldier stood unfazed and gave his life to defend countless others. Maj. Bhatti was 37 years old at the time of his shahadah.
Nishan-e-Haider for Major Aziz Bhatti
Therefore, soldiers who execute acts of tremendous heroism in the face of extreme peril. Or subsequently who display the greatest level of courage or loyalty to the country in the face of the adversary, are awarded Nishan-e-Haider. Indeed, Major Aziz Bhatti is revered by all Pakistanis for his valor and devotion to the country.
Have something to add to the story? Comment down below!