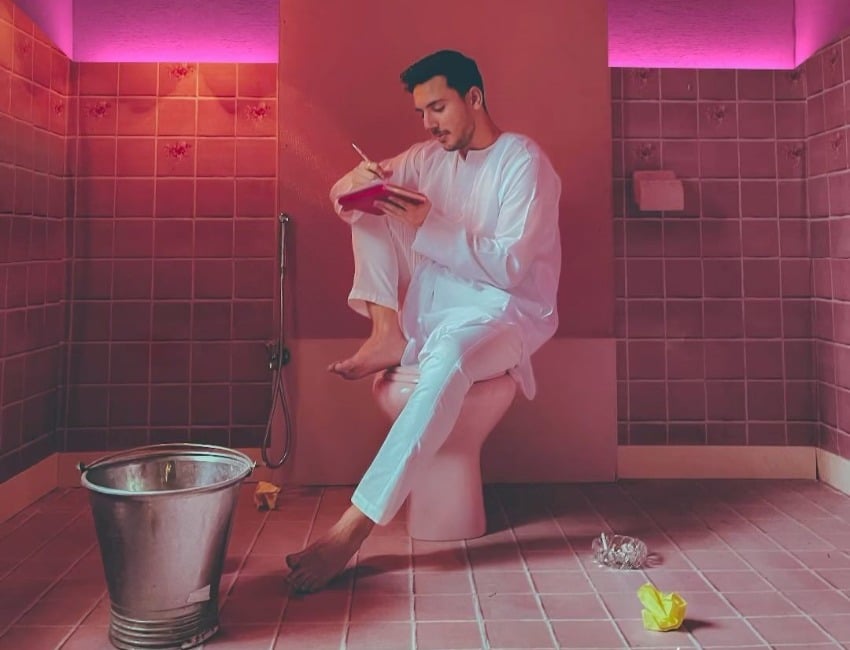 Thursday Tunes: Hasan Raheem spreading chilled up vibes with his debut album Nautanki
posted by:

Abdul Latif Dadabhouy

No Comments
Nautanki by Hasan Raheem
I imagine that there aren't many people in K-town who are unaware of Hasan Raheem anymore. The "Paisa" crooner rose to fame when, in January 2021, his song "Aisay Kaisay" unexpectedly and greatly gained popularity first in India and then in Pakistan, bringing a fresh RnB soul to a non-indie friendly nation. Since then, Hasan Raheem has been on the rise. Songs after songs, concerts after concerts his fan following sky-rocketed.
A new gem for a crown, debut album!
And Hasan Raheem is back with his new debut "Nautanki." The singer has been building anticipation for this album for weeks, and it is now also available in its entirety on YouTube. The album has thus far garnered a great deal of praise. Additionally, this is Hasan Raheem's debut studio album.
Also Read: Thursday Tunes: Bach Ke by Talwiinder and Hasan Raheem is the new laid-back vibe song to end the year!
First thoughts
Singer has kept his word and released a 9-track album with a variety of moods. It surely got us grooving. "Nautanki" features a number of upbeat songs rife with romance, drama, and angst. The song names got us giggling with Kaleji, Accusations, DIBS, Dil fareb, IDK, Fursat, Tareekhi, and ofcourse Nautanki!
The album's lead song with the same name, collocates a variety of jazzy and pop elements and argues in favour of impromptu music that simultaneously confuses and amuses listeners.
The forever favourite ones…
My favourite was unquestionably DIBS. The melody transported me to slower-paced Roosevelt times in the early 2000s. The lyrics are enjoyable to hear as well.
However, Tareekhi was the song I adored the most. When I first heard it, the combination of fast pop and a slow beat and tempo caught me off guard, and I immediately looped it. There is no denying how well Raheem and Abdullah Kasumbi complement each other. The comfort he feels around Kasumbi is evident in his songs. I adore the songs he performs with Talal Qureshi. He is also a priceless find, particularly for Raheem.
Also Read: Thursday Tunes: Melancholic by Maanu is a "sad tale of affairs"
DIBS by Hasan Raheem lyrics,
Sarey dibs on you,
Phir bhi kyun nai meri tu,
Banja meri baby boo,
Main tera aur meri tu.
Tareekhi lyrics,
Saaya tera jabsey gaya,
Tabsey mera har din naya,
Kehna jo tha wo keh diya,
Parda karlaingay jaan e jaan.
In a clip that Spotify also released, Hasan talks about his musical journey, which he started while pursuing a medical degree.
So which track did you like the most from the album?
Have something to add to the story? Comment down below!