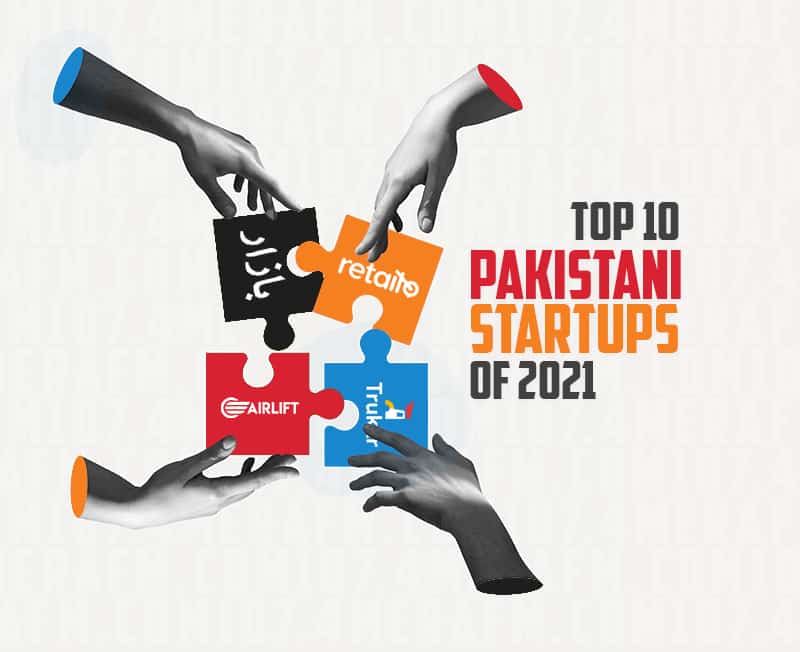 Top 10 Pakistani startups of 2021
posted by:

Abdul Latif Dadabhouy

No Comments
Pakistan, acquiring the tech startup world!
Pakistan, the world's last great unexplored market, is gripped by startup fever. The country's burgeoning tech sector is attracting international investment. This year's funding has surpassed the previous six combined. In the world's fifth-largest country, the startup scene is exploding. Investors from the United States, Singapore, and the United Arab Emirates joined the rush into Pakistan's embryonic technology sector in 2021, more than in the previous six years combined. About half of the fundraising agreements have involved a former Microsoft Corp. or LinkedIn Corp. employee. Several local entrepreneurs contacted me for help with funding and accelerating their businesses. And, thanks to their tenacity and good fortune, they were able to obtain what they required.
Top 10 Pakistani startups of 2021!
Below we list the top 10 Pakistani startups of 2021 who made a difference with their unique business model and a talented set of teams.
1- Airlift Technologies
Airlift began as a mass transit company in 2019 but had to cease operations in March owing to Covid-19. As a result, the company established a 30-minute grocery delivery service, which is now offered in eight Pakistani cities. Airlift now delivers fresh produce, OTC and prescription medicines, and sports products from its network of several fulfillment sites in every location it works in, in addition to groceries. The site, which was launched in 2020, has increased 30-50 percent month over month on average, according to the business. Fresh produce is also being distributed through the startup's farmer-to-consumer distribution route. And it is considered to be one of the most successful and top Pakistani startups of 2021.
Airlift funding till now: $110M (Series A: $12M, Series B: $85M)
2- Bazaar Technologies
Bazaar is a mobile-based e-commerce marketplace created by Saad Jangda and Hamza Jawaid that allows people who own local grocery stores (Kiryana stores) to purchase merchandise from manufacturers, distributors, and suppliers.
When the two co-founders started creating Bazaar, they set a goal of serving 800 retailers in Karachi by the end of 2020, but by the end of the year, they had serviced over 10,000, exceeding their initial targets by over 10x in terms of people served and GMV. They also have an app that offers free next-day delivery on over 500 SKUs of branded and unbranded products. For retailers, Bazaar provides quick ordering and reliable, timely delivery at market competitive costs. Whereas it also has perks for suppliers, such as a direct path to market, cost-effective distribution, and relevant market analytics.
Bazaar funding till now: $37.8M (Pre Seed: $1.3M, Seed: $6.5M, Series A: $30M)
3- Retailo Technologies
Retailo is a Riyadh-based store where you order kiryana supplies online. It also connects manufacturers, distributors, and wholesalers. Its goal is to make retail supply networks more technologically advanced. Furthermore, to create a tech-enabled distribution marketplace that will address inefficiencies in the informal retail sector. Talha Ansari, Mohammad Nowkhaiz, and Wahaj Ahmed founded Retailo. They have expertise working for regional startups like Careem, Rocket Internet, Daraz, Foodpanda, and Shopistan. Retailo provides a plethora of possibilities for running a business through its b2b app. It offers market competitive prices that assist the store in maintaining a consistent and optimal inventory level.
Also Read: Tech Tuesday Startup of the Week: Retailo Technologies
Retailo funding till now: $9M (Pre Seed: $2.3M, Seed funding: $6.7M)
4- PostEx
PostEx is a hybrid receivables factoring solution and courier service founded in April 2020. The founders include Omer Khan, Saad Mahmood, Babar Razzaq, and Adil Naseem. The startup PostEx pays invoice values upfront to E-commerce enterprises offering Cash on Delivery is one of their ways of payment. It differs from many other participants in the industry. Furthermore, it does not require vendors to wait for payment for their cash-on-delivery orders. The firm is now on a mission to make delivery services seamless. In addition, by transforming traditional delivery into modernized delivery with immediate and upfront cash on orders. PostEx is seeking to address the difficulties of payment cycles and transactions with its finance and logistical platform. In addition to cash-on-delivery, PostEx offers a payment gateway that merchants may integrate on their website to accept credit cards, bank accounts, and mobile wallet payments online.
PostEx funding till now: $8.6M (Seed funding: $1.5M, Series A: $7.1M)
4- Dastgyr
Zohaib Ali and Muhammad Owais are the creators of Dastgyr. Dastgyr is a B2B E-commerce marketplace launched in May 2020 with a team that includes Muhammad Awais Chaudhary, Haseeb Siddiqui, Asad Qamar, and Maaz Tariq. It is a B2B E-commerce marketplace launched in May 2020 with a team that includes Muhammad Awais Chaudhary, Haseeb Siddiqui, Asad Qamar, and Maa Dastgyr is a platform that allows shops and enterprises to buy goods from manufacturers, brands, and wholesalers all in one place. This startup gives its buyers and sellers access to extra channels that will help them increase their revenue with super-fast, low-cost, low-waste delivery systems across Lahore and Karachi.
Dastgyr funding received till now: $4M (Seed $3.5M)
6- Trukkr
Sheryar Bawany, Waqas Khatri, Ali Haji, Mishal Adamjee, and Kasra Zunnaiyer founded the company in 2020. Trucker is a Karachi-based start-up that assists businesses in transporting their goods across Pakistan via its network of carriers, allowing people to access logistics across the country. Both shippers and carriers benefit from Pakistan's cutting-edge technology, complete openness, country-wide accessibility, and expanded options.
By connecting a shipper directly with a driver over a safe, intuitive, and powerful platform, this start-up speeds up the process of scheduling commercial cargo. They also ensure that shippers have complete transparency in pricing discovery, as well as visibility, flexibility, and choice while providing drivers with easy access to more jobs whenever they want them. Trukkr provides a digital answer to your water-related issues. Trukkr delivers quality water tanker service in addition to moving your items. Choose from a variety of quantity options. Allow Trukkr to handle your water issues by tapping. Customers of Trukkr can use the platform at no cost.
Trukkr funding till now: $600,000 (Seed Round)
7- DigiKhata
DigiKhata, founded by Adnan Aslam in 2020, allows micro and small enterprises to handle their bookkeeping through a web and mobile app. The program helps merchants digitize their bookkeeping by documenting financial transactions digitally, replacing offline registers and diaries. It also sends automated payment reminders to its clients, assisting businesses in recovering arrears. Adnan Aslam supervised financial and bookkeeping capacities at different firms in Pakistan, the United Arab Emirates, and Africa before founding DigiKhata. He's a certified accountant who bootstrapped the business with his own money prior to raising this round. Kiryana stores, tea shops, grocery stores, bakeries, fruits and vegetable shops, jewelers, pharmacies, clothing shops, and tailors, among other things, are managed by DigiKhata. The first Pakistani app with adequate capabilities for managing your personal or numerous business accounts. It handles debit and credit transactions, as well as installment payments.
DigiKhata funding till now: $2M (Seed Round)
8- Maqsad
Maqsad was founded by Taha Ahmed and Rooshan Aziz, who previously worked in strategy consulting and investment banking in London. "Making education more accessible to 100 million Pakistani students" is the goal of this mobile-only education platform. Friends from my childhood who grew up in Karachi are well aware of the challenges that Pakistan's education system faces, which is particularly challenging for those who do not live in large cities. The Maqsad platform promises to provide a one-stop-shop for after-school academic content in English and Urdu. Quizzes and other gamified components round out the experience. All of these things will come together to provide individuals with a customized education. One of the platform's features is adaptive testing, which alters the complexity of a question based on user responses.
Also Read: Tech Tuesday Start Up of the Week: Maqsad
Maqsad funding till now: $2.1M (Pre Seed)
9- Tazah
While serving in top roles at Uber subsidiary Careem, the founders of Tazah Technologies, a B2B agriculture marketplace in Pakistan, met. During lengthy working hours, Abrar Bajwa and Mohsin Zaka bonded as the platform faced with the consequences of COVID-19. Eventually, the two began discussing the possibility of starting their own business. Furthermore, both of the founders came from agrarian families. "We're from central Punjab, where every family is involved in agriculture," he explained. "We'd witnessed directly how farmers, or those who work in small-scale farming, don't have access to social mobility since the odds are stacked against them."
This Pakistani startup intends to eliminate inefficiencies in the local agriculture sector and transform it. Tazah intends to expand its marketplace to include financial services for farmers and other industry partners. In addition to helping farmers enhance their social status, its platform will assist reduce food prices and waste, as well as improve everyone's access to fresh produce.
Tazah funding received till now: $6.5M (Pre Seed: $2M, Pre Seed extension: $4.5M)
10- Zarya
The B2B startup Zarya was formed by two brothers named Faisal and Saad Zahid, with the goal of enabling small sellers (mainly women) to source various products and sell them through their network. Zarya is in charge of the entire process, from goods sourcing to delivery and payment, as well as the overall profit transfer once a sale is done. Furthermore, the startup's platform now contains over 3,000 products, with plans to add more in a variety of categories including home textiles, beauty, shoes, and more. Zarya now has over 3,000 products on its website, with intentions to expand into other categories such as abayas, shoes, home textiles, and beauty in the near future.
Zarya funding received till now: $1.7M (Pre Seed)
Also Read: Tech Tuesday Start up of the week: Zarya
So, what is one of the top 10 Pakistani startups of 2021 that inspired you? If you have anything to add to the story, comment down below! Last but not the least, if you like this article, find out more startups in our segment Tech Tuesday. If you want your startup to get featured, contact us.