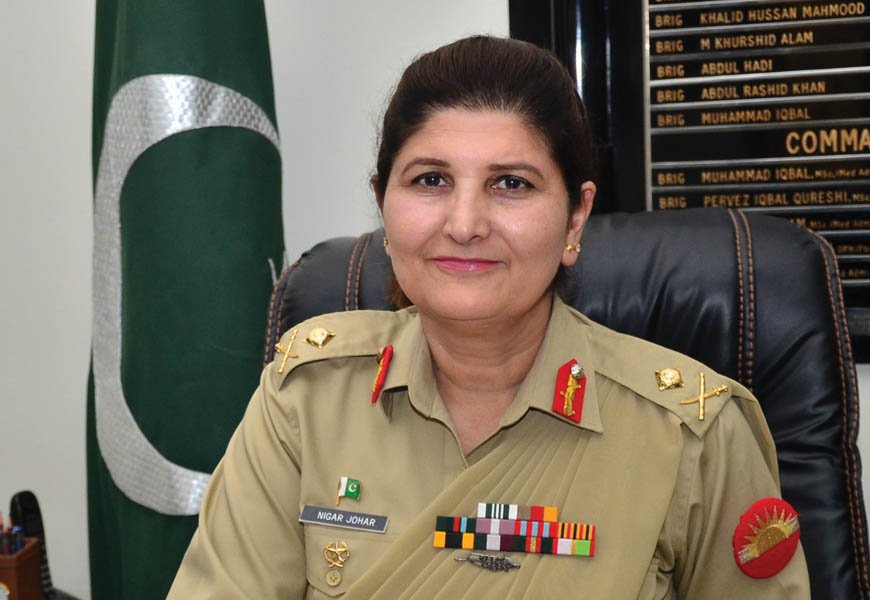 Women Empower Wednesday: The Nation's Pride Nigar Johar
posted by:

Abdul Latif Dadabhouy

No Comments
General Nigar Johar, the brave gem of Pakistan
Around four decades on, in 2020, Lieutenant General Nigar Johar became the first and only woman in the Pakistan Army to reach the rank of a three-star General. She is a member of the Pakistan Army Medical Corps and currently serves as the Pakistan Army's surgeon general. Shahida Badsha, Shahida Malik, Shehla Baqai, Abeera Chaudhry, and Shazia Nisar are the Army Medical Corps' other five female major generals.
Nigar Johar – Early life and Education
Johar was born to a Pashtun family in Panjpir village, Swabi District, Khyber Pakhtunkhwa province. Her father, Qadir, was a colonel in the army. In 1989, her parents and two younger sisters were killed in a car accident. Johar, a military engineer who died of cancer in 2019, was her husband.
In 1978, Johar graduated from the Presentation Convent Girls High School in Rawalpindi. At 1981, she enrolled in the Army Medical College (AMC) and graduated in 1985. Johar graduated from the Army Medical College's 5th MBBS course and served as the female company commander of Ayesha Company at the same institution. She passed the College of Physicians and Surgeons Pakistan's membership exams in 2010.
Nigar earned an Advanced Medical Administration credential from the Armed Forces Post Graduate Medical Institute in 2012, and a Master of Public Health from the same institute in 2015.
Also Read: Women Empower Wednesday: Pakistan's first transgender doctor Sarah Gill
Military career
She was promoted to Lieutenant General and named Surgeon General of the Pakistan Army on June 30, 2020. She was the Combined Military Hospital Rawalpindi's deputy commandant in 2015. [10] Johar was one of 37 brigadiers elevated to the rank of major general on February 9, 2017. General Qamar Javed Bajwa, the Chief of Army Staff, presided over an Army Selection Board meeting that approved her promotions. She was the Vice President of Army Medical College. She is currently the Pakistan Army's Surgeon General. Johar was also the commandant of Rawalpindi's Pak-Emirates Military Hospital.
Empowering resilience
She has always been a firm believer in the power of optimism and hard effort. The magic happens when hard labour is combined with a sincere commitment to the cause and a good mindset. Keeping a cheerful attitude and assisting others in need has always made her happy and helped her get through tough times.
Her parents died in a vehicle accident when she was a child. Her parents educated her about the power of positive thinking, as well as the achievement and beauty that comes with it, and she would not be where she is now if it weren't for them. This spurred Johar to work so hard that she didn't leave any stone unturned in order to reach her objective. She's always had a strong determination to succeed.
Empowering women against Gender discrimination
Gender discrimination is a social issue that affects people all across the world, not only in Pakistan. For all the ladies of Pakistan, Johar has strong and driving beliefs.
She does feel, however, that the Army as an institution is amenable to the idea of women working alongside men. As evidenced by the large number of women working not only in the Medical Corps but also in other sectors, small concerns do arise from time to time. These, however, are increasingly dissipating.
Gender discrimination can exist in any office and at any level of management, she adds, but that is not the issue. The issue arises when we fail to teach our daughters and sisters how to spot discrimination.
The motivation of hardwork
Furthermore, she feels that being a woman necessitates working at least twice as hard, but that once your persistence and hard work are recognized, you are respected twice as much. She has always prioritized her work in order to be successful. She has also collaborated with male coworkers rather than competing with them. The glass ceiling is quite high, yet Pakistani women are gently but steadily breaking through.
Also Read: Women Empower Wednesday: The Nation's brave daughter Marium Mukhtiar
It's incredible how much a person can do with just a pinch of positivity and a strong 'can-do' attitude. Nigar Johar surely is a positive beam of hope for every woman out there who is looking to shatter the stereotypical barrier our society casts in her way!
Have something to add to the story? Comment down below!