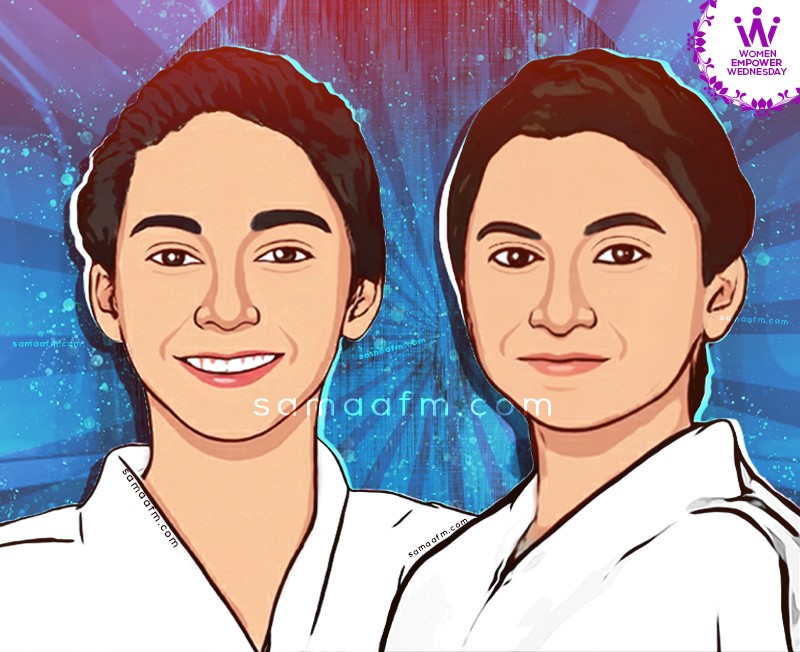 Women Empower Wednesday: The Ju-Jitsu Champs Isra Waseem and Kainat Arif!
posted by:

Abdul Latif Dadabhouy

No Comments
Sports in Pakistan for women has always been a brow-raising situation. We think we live in 2021! But still in some places we see women getting pushed behind and due to the lack of support, they are not able to come to their full potential. We also see women like Noorena Shams and Samar Khan, who actually broke the stereotypes and became stronger for other women. Today we have someone from the Ju-Jitsu category, yes… MARTIAL ARTS COMBAT SPORTS! Isra Waseem and Kainat Arif made Pakistan proud as the duo won Gold in E-tournament for Ju-Jitsu.
Ju-Jitsu
Jujutsu, also called jiu-jitsu and ju-jitsu, is a group of Japanese hand to hand martial arts fighting. It is an arrangement of close battle/combat (unarmed or with a minor weapon). This is utilized in a cautious and offensive manner to kill or at least subdue your weaponless rivals. A subset of methods from specific styles of jujutsu was utilized to create numerous cutting edge martial arts fighting and combat battle sports, like judo, sambo, ARB, Brazilian jiu-jitsu, and blended combative techniques.
Isra Waseem and Kainat Arif getting the Gold!
The two Pakistani youngsters have gotten back the gold award in the Junior division of the World Ju-Jitsu E Tournament. What made this outcome significantly more striking was that the medalists, Isra Waseem and Kainat Arif, were contending in the World Ju-Jitsu E Tournament 2021 without precedent for the Duo Classic Junior classification.
All through the competition's 373 groups and 373 parts in different classes, the Gold medal winning pair put on a reliably splendid act. They had been preparing in Karachi preceding the competition, and clearly their arranging had paid off.
The organization's authorities trust that Isra and Kainat, just as other skilled Ju-Jitsu competitors in Pakistan, will keep on addressing Pakistan at a worldwide level. Also, the Ministry of IPC/PSB, drove by Dr. Fahmida Mirza, a visionary Women Leader, will offer sufficient help for every single future occasion. Furthermore, proceeding with Pakistan's account of achievement and banner raising.
Ju-Jitsu champions Isra Waseem and Kainat proving their mettle!
Given that Isra and Kainat's support at the occasion is considered in the world. Representation is not enough, support is. Something that could end up being more significant at the World Ju-Jitsu E Tournament. Because of the continuous COVID 19 pandemic and closers of all instructional hubs, Pakistan's First-place in women Junior category is genuinely wonderful.
Last but not the least, Isra waseem and Kainat Arif achievement proves that Pakistan has stunning wearing ability accessible, in any event. Especially with regards to non-customary games. And women can make it happen! Furthermore, this also demonstrates that if enough speculations are made in the nation's games foundation, Pakistan's appearing at significant global occasions could improve.
RECOMMENDED
Read more about Women Empower Wednesday and If you like this article you can also check these